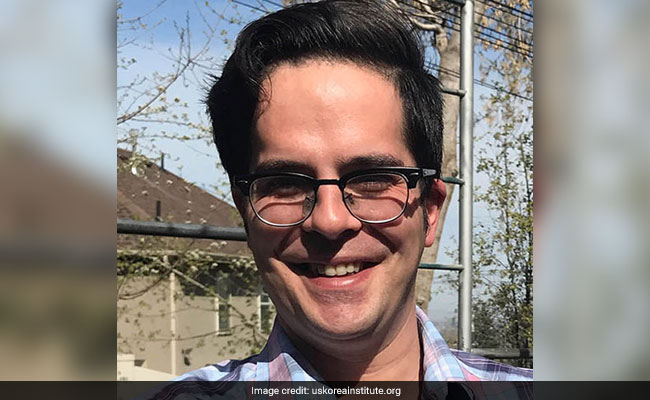 North Korea's leadership might just be the toughest intelligence nut to crack.
Kim Jong Un hasn't traveled outside the country since becoming its leader at the end of 2011. In those six years, he's met only a handful of outsiders. They include the usual cast of communist-linked characters - Chinese, Cubans, Syrians - as well as the less-expected delegations led by American former basketball star Dennis Rodman.
Otherwise, there's no human intelligence on Kim and his cronies. Just state propaganda and satellite photos and rumors. Lots of rumors.
But Michael Madden has become, as he puts it, an "accidental expert" on the men, and the occasional woman, who run the world's most isolated country. From his couch in a dark basement here, Madden operates the website North Korea Leadership Watch, documenting the appearances - and the telling absences - of Kim and the people around him.
"This regime is the longest-lasting totalitarian system for a reason," said Madden, an idiosyncratic 37-year-old who has an encyclopedic knowledge of the North Korean elite.
He's prone to rattling off their family trees or minutiae about their educations or jobs - such as the previous positions held by the current director of the agricultural affairs department of the ruling Workers' Party of Korea.
"Sure, there is a powerful strongman around which the system vests its attention and affection, but the strongman still needs subordinates who ensure that the trains launch on time," he said. "So it is important we know some things about these subordinates, however expendable they might be."
Through his website, which is now hosted by the U.S.-Korea Institute at Johns Hopkins University, and through his work for government agencies and contractors, Madden has been keeping tabs on the people at the top of the Kim regime for almost a decade.
"It's just a matter of keeping track of 300 people at a time," he said.
Madden has become influential in this small field - and some North Koreans have noticed. He was in contact with Kim Jong Nam until he was killed early this year, apparently on the orders of Kim Jong Un, his half brother.
Unusually, he also talks to North Koreans inside the regime. In fact, while a Washington Post reporter was in Pyongyang for the Workers' Party congress last year, it was Madden, sitting 6,000 miles away in Salt Lake City, who was telling her what agenda item the delegates in the hall across town had come to.
"He does a good job pulling together available open-source material, and he is one of the people that I follow on nitty-gritty North Korea leadership issues," said Jung H. Pak, who until recently was a Korea analyst at the CIA and is now at the Brookings Institution.
Although he spends all his time in a darkened room drinking venti cups of coffee with an extra shot, Madden is not your stereotypical intel nerd.
He has tattoos of the Star Wars character Boba Fett and a Japanese lucky cat on his arms, and barely goes a sentence without swearing. In forging analogies about North Korea, he's prone to allude to everyone from Bette Midler to Ralph Waldo Emerson.
Madden happened upon North Korea by an unusual route.
When he was a student at Suffolk University in Boston, he had a part-time job in the administration section, which led to him traveling to Prague, where the university had a satellite program. The Czech Republic was also a base for many North Koreans, either as diplomats or students.
He got interested in North Korea, and in 2006, when the collaborative mapping site Wikimapia was launched, he started identifying sites in North Korea for it. Then he moved into words, writing a piece for an academic journal about the Ryugyong Hotel, an ill-fated skyscraper that stands as a pyramid-shaped blight on the Pyongyang skyline but has never opened, because of faulty construction and a lack of investment.
One thing led to another, and back in Prague, he was invited to a local restaurant frequented by North Koreans smoking and playing checkers. Slowly, he started making North Korean contacts.
He started his website in September 2009 - fortuitously, just at the time a young man called Kim Jong Un was emerging as his father's successor.
Madden began documenting Kim's public appearances with his father and pulling together media reports about the third-generation leader and the people around him, from both inside and outside North Korea. Madden does not speak Korean, so relies on translations.
He memorizes details about all these people - and types out reports from the state-run Korean Central News Agency word by word, instead of copying and pasting, to help the information stick in his head.
"I'm interested in all the mundane details," he said. "I'm a very elderly millennial."
But Madden's work has become increasingly important as the North Korean leadership has changed under Kim. His wife, Sierra, has started writing for the site, too.
"North Korea doesn't have an order of succession or seniority system like the U.S. government. There's no parliamentary system with prime ministers, whips and secretaries of state," he said.
Instead, North Korea has a Politburo containing the country's top 25 officials. "It was ceremonial under Kim Jong Il, but in the Kim Jong Un system, it has become much more important. The politburo is very much the center of power."
The upper echelons have been closely watched for signs of Kim Jong Un's strength - or otherwise - as he has consolidated his leadership after only a two-year apprenticeship under his father, Kim Jong Il.
Just as people have entered the inner circle, they have also dropped out of it. Kim Jong Un has purged and sometimes executed some of his closest aides, including men who helped him make the transition into power. Kim had his own uncle executed (using an antiaircraft gun) for apparently amassing too much of his own power.
The latest rumor revolves around Hwang Pyong So, who had been elevated to be head of the army's General Political Bureau, which mobilizes the military for Kim. South Korea's intelligence service reported last month that Hwang, who was often seen at Kim's side during missile launches, had fallen from grace. Now, it's saying he's been sent to a reeducation camp.
But a sizable number of people reported purged or executed have shown up just fine some months later, so Madden likes to sit on these reports and wait for proof. If the officials reappear after six months, it means they've been "reeducated." But if they are edited out of videos, it generally means they're no longer of this world.
"I've just got to put it all together," Madden said of his work assembling small pieces of information. "It's like Mr. Potato Head."
(This story has not been edited by NDTV staff and is auto-generated from a syndicated feed.)