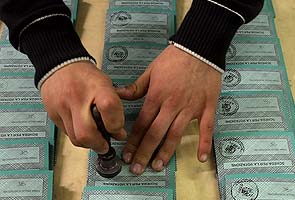 Rome:
With no government in sight more than a month after elections which produced no clear winner, Italian political analysts have struggled to predict the possible outcome of the latest negotiations.
The February 24-25 elections left the political field essentially split between three antagonistic forces -- Pier Luigi Bersani's centre-left, Silvio Berlusconi's centre-right and the anti-establishment Five Star Movement.
Bersani won the elections by a wafer-thin margin but failed to garner enough votes for a majority in the upper house as well as in the lower house.
Here are the main possible scenarios for the next government:
Minority government:
This would be a centre-left cabinet reliant on Senate votes from Mario Monti's centrist coalition -- a near certainty -- as well as support from either Berlusconi's coalition or the Five Star Movement, or both.
Bersani aimed for this solution but failed to woo rival lawmakers. Analysts say it would prove unstable and leave the government's fate in the hands of Berlusconi or the Five Star's mercurial leader, ex-comedian Beppe Grillo.
Grand coalition:
A government uniting the Bersani and Berlusconi coalitions -- perhaps without the inclusion of the two arch-rivals -- is seen as the option preferred by President Giorgio Napolitano and the financial markets.
The small leftist party "Left, Ecology and Freedom" which is allied with Bersani has ruled out taking part in such a government and the left as a whole could lose support if it allied itself with the scandal-tainted Berlusconi.
Technocratic government:
This would be similar to the outgoing government of Mario Monti, a former European commissioner installed by president and parliament following Berlusconi's ouster in 2011 during a wave of market panic.
Some analysts say Monti's mandate could be extended but the possibility of a different figure is seen as more likely. The mandate would likely be short lived until a controversial election law blamed for the current political deadlock is changed and a new vote is held.
One option is also that Bersani could lead the government but it would be composed of non-political figures.
New elections:
This is seen as the worst case scenario and the most improbable one since Napolitano cannot dissolve parliament and call new elections in the last months of his mandate, which runs out in May.
Analysts say elections are still possible as early as July, however, and Berlusconi says this would be his preference if there is no grand coalition with Bersani. But it could prove ruinous for Italy on the financial markets.