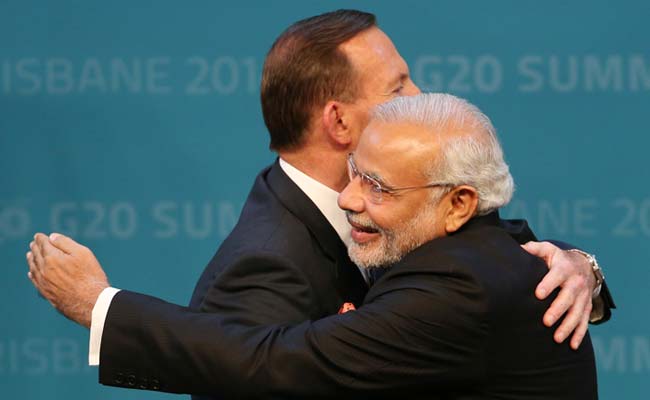 Brisbane:
Prime Minister Narendra Modi was much sought after at the G20 summit in Brisbane with world leaders, including US President Barack Obama, spending time, chatting and laughing with him.
At the G20 Retreat today, hours ahead of the summit, PM Modi was seen interacting with President Obama, his Russian counterpart Vladimir Putin and Australian Prime Minister Tony Abbott.
PM Abbott had thrown a traditional Aussie barbecue at the state Parliament House for the retreat.
He later tweeted a photo of PM Modi sharing a lighter moment with President Obama and himself during the retreat.
The BBQ lunch with @narendramodi and @BarackObama was an opportunity for #G20 Leaders to talk in a relaxed atmosphere pic.twitter.com/zxYcUa28et

-- Tony Abbott (@TonyAbbottMHR) November 15, 2014
Earlier, the Australian PM extended a warm welcome to Prime Minister Modi to the G20 summit. As they shook hands, Mr Modi, attired in a black
bandhgala
suit, embraced the Australian premier.
"The stand out shake so far has been India's Prime Minister Modi, who gave Abbott a hug. An 'awww' could be heard across the media centre," reported
The Age
.
"There were no hugs from Abbott besties David Cameron and Stephen Harper. We repeat, no hugs," it said.
The Guardian
, in an article titled '<a href="http://www.theguardian.com/world/2014/nov/14/narendra-modi-from-international-pariah-to-the-g20s-political-rock-star" rel="nofollow" target="_blank">Narendra Modi: from international pariah to the G20's political rock star</a>', wrote that Prime Minister Modi "is one of the most popular figures at this G20. A leader others want to see, and be seen with".