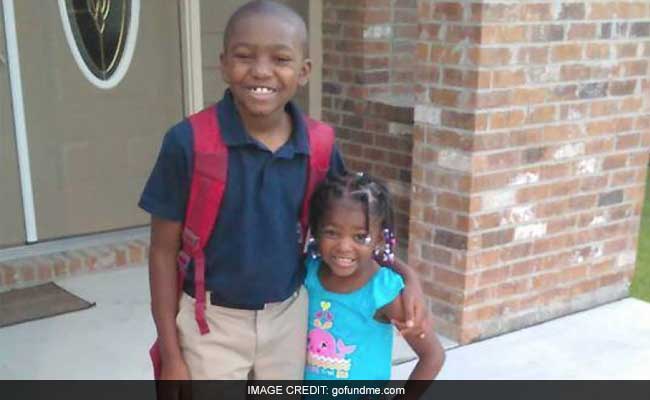 A Louisiana mother says her 8-year-old son was injured when he tried to protect his 4-year-old sister during an after-school altercation in which other children hurled racial insults before slamming the boy on the ground.
Alana Jackson said her son, Jordan, who is black, was playing with his sister one day earlier this month on a playground at Spanish Lake Primary School in Geismar, near Baton Rouge, according to the Gonzales Weekly Citizen.
During a schoolyard scuffle, Jackson said, another child told her son: "You need to go back to the cotton farm."
"My son, who understands the connotation of that statement because we've had those conversations before, was appalled; so he said 'that's racist,'" Jackson told the newspaper. "The child responded, 'Why do you think it's so racist? You do need to go back to the cotton farm.' So at that point my son began to try to defend himself because the 13-year-old was pushing him down and calling him a baby."
A family member said the other children involved in the attack are white.
Jackson said her son sustained a broken arm and a concussion and was later diagnosed with post-concussion syndrome.
Jordan is a student at Spanish Lake Primary and Jackson, his mother, is a teacher there; but she has been on assignment at another school in the district, coaching other teachers, the boy's uncle, Cris Colbert, told The Washington Post.
A spokeswoman with the school district confirmed the Jacksons' relationship to the school but said the incident involved students from "multiple schools."
Ascension Public Schools Superintendent David Alexander said the incident occurred after school on Nov. 14, when teachers, who had brought the children to play at Spanish Lake Primary after hours, left them without supervision.
"As with any incident that occurs on school property, we take very seriously our responsibility to gather all factual information before determining our response," Alexander said in a statement. "We are working with the Ascension Parish Sheriff's Office to fully investigate this matter and anticipate a resolution for all parties involved."
Allison Hudson, a sheriff's spokeswoman, confirmed that authorities are "thoroughly investigating the case."
Hudson said she could not release details, since the case involves juveniles, but said authorities had obtained surveillance video from the school and were reviewing it.
Colbert, the uncle, said the family had been advised by attorneys not to speak to the media with the investigation pending.
Jackson, the boy's mother, told the Weekly Citizen that her son, Jordan, and his 4-year-old sister, J'Niaha, were playing outside Spanish Lake Primary after school Nov. 14.
Jackson told the newspaper that another young boy started throwing mulch at Jordan, and when Jordan told the child to stop, the child's 13-year-old brother walked over and confronted Jordan, pushing him to the ground.
She said her son got up and walked away - but then he saw the younger child had started to throw mulch at 4-year-old J'Niaha.
Jordan went back to defend her, his mother said.
Another child, who had not been involved, then joined the altercation, telling Jordan, "You need to go back to the cotton farm," Jackson told the Weekly Citizen.
Jordan's uncle said the boy was pushed down and "body-slammed," sustaining a fractured right arm and post-concussion syndrome, a condition characterized by lasting headaches and dizziness. The uncle described the injuries on a GoFundMe page, which had raised more than $42,000 for medical expenses by Friday.
Following the incident, a fifth-grade student who had reportedly witnessed the confrontation took Jordan to his mother, who was in a nearby classroom, the Weekly Citizen reported.
"Now you tell me . . . as a parent, how do I not feel hurt?" Jackson wrote on Facebook, according to the newspaper. "As an African American, how do I not take offense? As a Christian, how do I not seek love?
"I am disappointed that our culture has exhibited the behavior that makes our children believe that this type of behavior is acceptable. I am saddened that we have come so far yet are still so far away. I am discouraged that many have given up even though we are so far from finished. Yet I am hopeful that God is still in control."
Colbert posted on Facebook about his sister's struggle since her child was attacked.
"My sister, Jordan's mom, is not only a teacher in this same community, she is a teacher's teacher and travels throughout the district helping other teachers do their jobs better," he wrote. "The reason that we were so hesitant about making this public is that not only could there be a backlash against Jordan and J'Niaha, she runs the risk of facing backlash from the professional community that she loves. She's a decorated educator who loves her job. So as we push forward to make sure justice is done, there is the nagging fear that she could be ostracized. I know it's stressing her out because it's stressing me out.
"I wish I could just rewind and make this all not have happened."
Colbert said Wednesday that Jackson has been verbally attacked on social media by other teachers at the elementary school since news of the incident spread.
In a statement on the GoFundMe page, he said:
"Unfortunately this sentiment appears to have grown substantially among the teachers at the school and throughout the district. We realized soon after the injuries that Jordan would be home from school for some time and Alana had decided to take leave to watch over him. But now with this outright aggression, it's become clear that returning to the school/district is not a wise move for Alana or either of the kids. Amid this backlash, it's just not a safe or healthy learning or teaching environment anymore for them. So Alana has decided not return to the district and for the foreseeable future home-school both Jordan and J'Niaha."
He added:
"Although Jordan is really clear that he doesn't want to go back to that school, he is extremely upset that this means he is going to lose connection with pretty much all of the friends he knows. Likewise Alana is extremely hurt that so many people who she considered close friends have abandoned her and the kids now."
Colbert said Jordan had experienced migraines, mood swings and double vision after the attack but was "a little better" by Wednesday.
The boy's mother told the Weekly Citizen that she only wants those responsible to be held accountable for her son's medical care. She said in a statement Wednesday she has been "absolutely overwhelmed with the outpouring of love and support" the family has received.
"We are so encouraged and humbled by the kindness shown," she said, according to the GoFundMe page. "As you can imagine, it has been difficult for Jordan and our entire family as we adjust to our new reality where life and 'friends' are no longer the same. We find comfort in knowing that we are not alone. Sending love appreciation, and blessings to all who've reached out to create the silver lining in this storm cloud. God Bless You."
© 2016 The Washington Post
(This story has not been edited by NDTV staff and is auto-generated from a syndicated feed.)