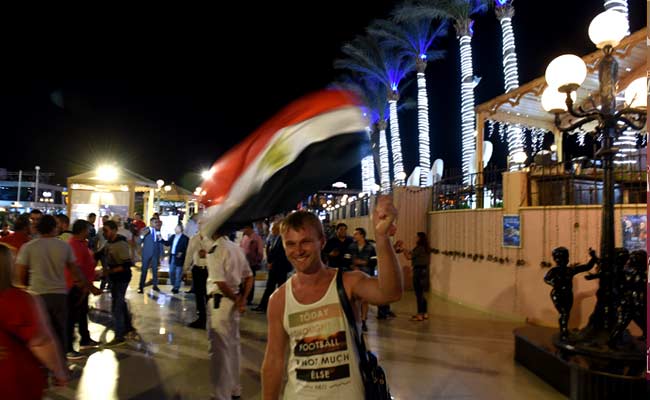 Sharm el Sheikh, Egypt:
Stranded in the Egyptian resort of Sharm el-Sheikh, British tourist Joanna Baker is growing increasingly frustrated despite her luxurious surroundings.
Baker and her boyfriend were scheduled to fly out Friday after a week of holidays in the Red Sea town, but instead are stuck like thousands of fellow holidaymakers after Britain suspended flights to Sharm el-Sheikh over last week's crash of a Russian airliner.
Their airline has put them up at a luxurious hotel, but the resort's private beach and Sharm el-Sheikh's warm, sunny weather are no longer an attraction.
"We feel like we are grounded," Baker, 22, told AFP as she played a game of table tennis with her boyfriend.
"We had a great time until Thursday, but now we are frustrated. The hotel is great, the people are great, but we just don't know when we are going."
Britain suspended flights to Sharm el-Sheikh after the plane carrying Russian tourists crashed in the Sinai Peninsula, killing all 224 people on board.
The Egyptian branch of the Islamic State group has claimed responsibility for downing the plane.
Britain, the United States and international investigators suspect a bomb was on board, but Egyptian officials insist there is no evidence yet of an attack on the plane.
Nearly 17,000 Britons are still stranded in Sharm el-Sheikh, and London has warned that some may have to stay on longer before they can be flown home.
About 2,500 travellers have been repatriated to Britain since Friday.
'Nobody knows anything'
But Baker and her partner have so far been unlucky.
"All we do is get up early, pack our bags and just wait," said her boyfriend, Arjun Mehta, an accounting student at the University of Sussex.
"We are tired of packing and unpacking," Mehta said, as the couple hoped to catch a flight on Sunday.
"I have to go back to work on Monday and he has to go back to the university. And we don't know when our luggage would reach" home, Baker said.
Under security measures imposed for the repatriations, passengers are allowed to travel only with hand luggage, with check-in bags to be transported later.
At various hotels in the resort town, stranded Britons mostly stayed indoors or on private beaches, ready to leave for the airport at short notice.
Tour operators and airlines are to reimburse them for extended stays, but many tourists blamed their airlines for "mismanaging" the situation.
"The hotel and its staff are great, but the airline has not called us, nor telephoned or emailed," Rob Ashford, 27, said as he stepped out of the swimming pool at a luxury hotel.
"We have been told not to step out of the hotel for security reasons."
Ashford and his girlfriend were scheduled to return to Manchester on Friday, but on Sunday there was still no indication when they would take off.
"We are living on a day-to-day basis. Nobody knows anything. Looks like we may be here for another week," he said.
For 49-year-old software developer Paul, who gave only his first name, a few extra days on holiday was not an issue.
"It's not that stressful, and to be honest it's better to be stuck in the hotel than get blown up," he said.