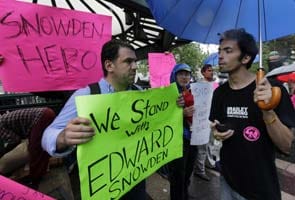 Quito, Ecuador:
As it champions a young American wanted for leaking state secrets, Ecuador's government is facing criticism for tightening media controls at home.
President Rafael Correa is considering offering Edward Snowden asylum, a move that would likely prevent the US from capturing him and set off a diplomatic firestorm.
The US-trained economist who last year granted asylum to WikiLeaks founder Julian Assange, says he wants to ensure an open flow of information about US spying unveiled by Snowden, which he says could affect citizens around the world.
But critics of Correa say this flies in the face of a new media law that prohibits publishing private communications such as those obtained by investigative reporters and creates broad restrictions on reporting that could "discredit" individuals.
"This is unbelievable irony. We defend the rights of Mr Assange and Mr. Snowden, but we don't defend the rights of Ecuadoreans to obtain information however we'd like," said opposition legislator Patricio Donoso.
Opponents of the law point to an article entitled "Media Lynching" that blocks dissemination of information aimed at "discrediting a person or corporation with the intent of diminishing their credibility."
The law would also prevent the publication of personal communications without the authorization of the sender, a practice that is not uncommon in journalistic investigations of corruption or malfeasance.
The new media law led the European Union to express concern in a meeting with Ecuador last week, but supporters insist it was necessary to control abuses by private media.
But the weak opposition has little political leverage to push for changes to the policies.
Conflicts with media
Correa's allies insist the law is necessary because Ecuador's media abrasively opposed Correa since his 2006 election, published false accusations against him and used epithets such as "assassin" and "dictator" to describe him.
Even after the law passed, newspaper cartoonists have been ridiculing the president. One sketch on Thursday showed Correa as a doctor ordering a newborn baby to "rectify" its first squeal of "aaaaaa!" to a cry of "oooohh!"
The government furiously disputes accusations that the new law contradicts Ecuador's support for Snowden and his decision to reveal U.S. surveillance programs.
Local media have falsely accused Ecuador of spying on its own citizens to "present this supposed situation as hypocrisy on the part of Ecuador," government spokesman Fernando Alvarado said on Thursday.
"The mercantilist local press, which proclaims there is no freedom of expression in the country, has in a libertine manner reproduced the lies" of foreign media and opposition-linked think tanks regarding the Snowden case, he said.
The 30-year-old is still in the Moscow airport seeking safe passage to Ecuador with the assistance of Assange, who has not been able to leave the Ecuadorean Embassy in London because Britain will not grant him safe passage.
The former contract worker leaked details of a National Security Agency program called Prism that examines e-mails and photos from major U.S. Internet companies and reviews telephone records as part of counterterrorism efforts.
"Now they want to make it look like the issue is who picks up Snowden ... when the real issue is the massive espionage by the US government that clearly violates the right to privacy and the sovereignty of nations," Correa said in a televised speech on Thursday.
Like late Venezuelan socialist leader Hugo Chavez and Bolivian President Evo Morales, Correa has described himself as a victim of private media persecution and dismisses global media watchdog groups as stooges of corporate enterprise.
Correa won a libel award after suing two journalists for $1 million each over a book alleging he knew his brother received state contracts in violation of anti-nepotism rules.
He won $40 million in damages in a case against newspaper owners and a journalist over a column calling him a dictator.
He pardoned all the defendants after winning the cases.
© Thomson Reuters 2013