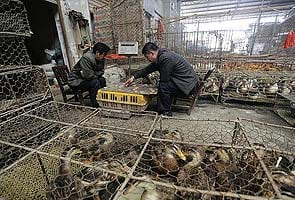 Beijing:
The new H7N9 bird flu strain has been found to be a mixture of genes from four flu strains found in birds even as the first patient with severe symptoms of the deadly disease has made a complete recovery.
Since it was first identified on March 30, 127 cases have been detected in 10 provincial regions, and the virus has claimed 26 lives in the Chinese mainland.
On Saturday, doctors claimed that the first person to be diagnosed with severe symptoms has recovered in east China's Zhejiang Province. Several patients have recovered from the deadly disease earlier, but the virus was detected early in those cases.
A 38-year-old man, surnamed Cao, is the first H7N9 patient with severe symptoms to recover. He was treated in the First Affiliated Hospital of Zhejiang University in the city of Hangzhou.
"I must thank the medics. They pulled me back from the verge of death. They let me live again," said Cao.
The medics, advised by an expert panel of more than 20 doctors, decided to treat Cao with life-support systems that replaced the functions of his liver and lungs.
Nine other H7N9 patients were also discharged on Friday from the same hospital.
The virus has caused a major scare all around the country with government and the World Health Organisation (WHO) stepping up efforts to contain the virus by banning the sale of live chicken and other birds in markets and establishing special cells in the hospitals.
Meanwhile, the strain was found to be a new type of "quadruple reassortant" virus with a mixture of genes from four flu strains found in birds, researchers said.
One of those genes is likely to have come from migratory birds from East Asia. The H7 influenza virus was later transmitted to ducks in the Yangtze River Delta region during migration, said researchers with the Chinese Academy of Social Sciences, the Chinese Center for Disease Control and Prevention and universities.
The ducks might have acted as a host, transferring viruses of wild birds to domestic poultry, the state-run news agency Xinhua quoted the researchers as saying. It may be noted that the epidemic first broke out in the Yangtze River Delta region.
Another six gene segments are traceable to chickens in east China's Jiangsu and Zhejiang provinces, as well as the biggest city of the country - Shanghai.
The scientists have found that H7N9 virus has evolved into at least two different lineages, showing different patterns of drug resistance to Tamiflu, a popular anti-flu medicine.