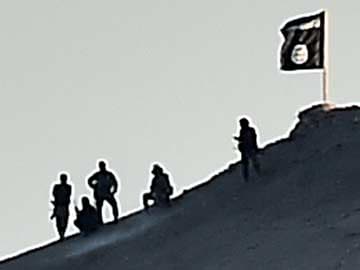 London:
Four men appeared in a British court on Friday charged with an alleged terror plot to shoot to kill police officers or soldiers on the streets of London, and with allegedly pledging allegiance to the Islamic State organisation.
The men, who are all from the capital and were arrested earlier this month, are accused of scoping out a police station and army barracks and obtaining a handgun and ammunition.
A fifth man appeared at Westminster Magistrates' Court at the same time charged with firearms offences.
Prosecuting lawyer Mark Dawson told the court that the case revolved around an alleged plot "to shoot, to kill, police officers or soldiers on the streets of London", according to the BBC.
The men, all dressed in grey, prison-issue sweatshirts and trousers, were brought to court under heavy security as a helicopter flew overhead, and they appeared in the dock flanked by 10 police officers.
Their lawyers did not apply for bail and they were all remanded in custody to appear at the Old Bailey central criminal court on October 27.
The four main suspects are Nyall Hamlett, 24; Tarik Hassane, 21; Suhaib Majeed, 20; and 21-year-old Momen Motasim.
They are accused of carrying out activities between July 8 and October 7 this year with the intent of committing acts of terrorism or assisting others to commit such acts, police said in a statement.
In a list of charges, Scotland Yard said the four had conducted "hostile reconnaissance" of a police station and an army reservist barracks in west London.
They alleged took "an oath of allegiance to the group IS", listed as a banned organisation.
And they are accused of deciding to act on a fatwa, or religious edict, by IS spokesman Abu Mohamed al-Adnani and having "extremist jihadi material" in their possession.
The fifth man, Nathan Cuffy, 25, also from London, is charged with transferring a weapon fitted with a silencer along with ammunition to Hamlett on September 23.
Two men aged 21 and 20 who were arrested on October 7 as part of the investigation were released from custody on Monday, and another man was released on Friday after prosecutors advised there was insufficient evidence to charge him.
Meanwhile a 19-year-old woman has been released on police bail until next week pending further enquiries.
Britain estimates there are around 500 Britons fighting with IS jihadists in Iraq and Syria and has warned of potential attacks by radicalised fighters when they return home.