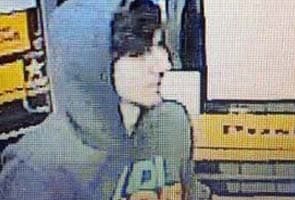 Watertown:
The two suspects in Monday's Boston Marathon bombing have been identified as men from Chechnya.
Earlier today they killed a police officer at the MIT campus, injured a transit officer in a firefight and threw explosive devices at police during their getaway attempt in a long night of violence that left one of them dead and another still at large Friday, authorities said.
A law enforcement intelligence bulletin obtained by the AP identified the surviving bomb suspect as 19-year-old Dzhokhar A Tsarnaev of Cambridge, Massachussets.
Two law enforcement officials told AP that Tsarnaev and the other suspect, who was not immediately identified, had been living legally in the US for at least one year.
Authorities say the suspects threw explosives from the car as police followed it into Watertown. The suspects and police exchanged gunfire and one of the suspects was critically injured and later died.
Police said in a briefing that the suspect at large is a "terrorist" who "came here to kill people." They are combing the area in his pursuit and have asked residents to stay home and not admit strangers into their houses.
MIT, one of the world's top universities, is situated in Cambridge, Massachusetts, just across the Charles River from Boston where three people were killed and 180 injured in a double bomb attack on the marathon on Monday.
The dramatic developments today came shortly after the FBI released the pictures and video of the two men suspected of planting the bombs, appealing for help to identify the pair who were carrying large backpacks.
Both appeared to be young men, one dressed in a white baseball cap and the other in a black cap. The FBI gave no details of their identities or origin, naming them only as Suspect One and Suspect Two.
Authorities said that a second police officer was wounded in the dramatic nighttime operation which saw heavily armed police swoop on the Watertown district and cordon off a large area of the university and surrounding streets.
Media reports said the events cascaded with a robbery at a gas station followed by the killing of the campus officer and then a car chase to Watertown.
The NBC-WJAR channel showed a film of a man lying on the ground in a street in the town and surrounded by police.
The university warned students to stay indoors as police with rifles patrolled the streets and search helicopters flew above the campus.