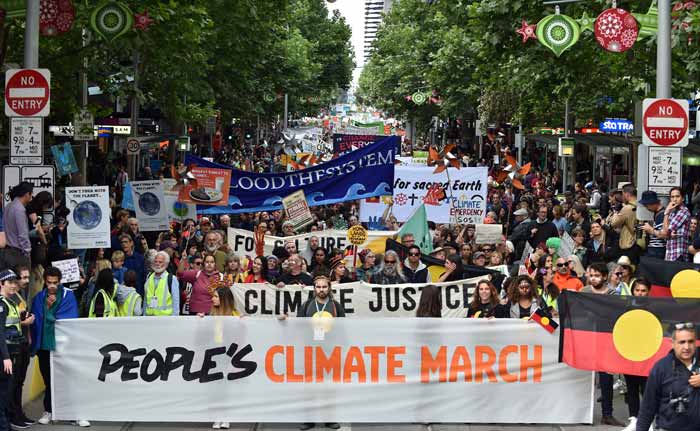 Melbourne:
Tens of thousands of people from all walks of life rallied in the Australian city of Melbourne to demand action on climate change today, the first in a series of global events ahead of crunch talks in Paris.
Organisers said they were overwhelmed by the turnout for the gathering, one of some 2,000 events in cities around the world this weekend to pressure leaders to curb carbon pollution and stop the Earth from overheating.
"We have people from all sorts of different backgrounds who've come together for this moment," said Victoria McKenzie-McHarg from the Australian Conservation Foundation.
"Because our future depends on cutting pollution and creating a clean and just future for all," she said as the crowd swelled to an estimated 40,000 according to a police count carried by the Australian Broadcasting Corporation.
Citizens' marches had originally been scheduled for Paris, which is hosting world leaders for the United Nations climate talks from Monday, but they were cancelled after France's worst terror attacks left 130 dead in the city.
France will deploy nearly 11,000 police for the climate summit, which aims to seal a deal to keep global warming from rising two degrees Celsius (3.6 degrees Fahrenheit) above pre-19th century levels.
Led by indigenous people, the march in central Melbourne took in schoolchildren, farmers, religious groups and politicians, and even a group calling themselves "climate angels" wearing white gowns and feathered wings.
One young boy carried a sign which read "Stop messing with my future" while an older man held one saying "Grumpy old man says cut CO2 emissions".
Others brandished signs with slogans such as "Climate Change is not Cool" and "There is no planet B" as the crowds closed roads during evening peak hour.
'Moment in history'
"We have school groups here today marching as part of their school in uniform, it's a phenomenal gathering of people from all walks of life," said McKenzie-McHarg.
"People have travelled for four hours to get here today to be part of this march and this moment in history."
Marches will take place elsewhere in Australia on the weekend, calling for an end to the use of fossil fuels and a shift to renewable energy, before rolling onto other Asian cities and those in Europe, Africa and the Americas.
The main event was to have taken place in central Paris Sunday near the scene of several of the November 13 shootings.
Undeterred, activists now plan to create a two-kilometre (1.2-mile) human chain along the march route on Sunday.
They will break the chain as they pass the Bataclan concert hall, where the worst violence claimed 90 lives, in a homage to the victims.
"This was the first of the major global marches happening right around the world this week," said McKenzie-McHarg of the Melbourne event.
"And absolutely our thoughts are with those in Paris who wanted to walk. We know that our hearts are united. And the voices of the people here today will be resonating all the way to those cobblestones streets of Paris."