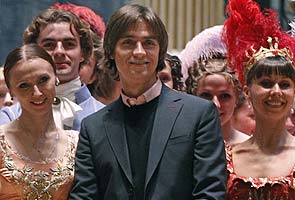 Moscow:
The Bolshoi ballet's artistic director underwent successful plastic surgery on Tuesday following a horrific acid attack that left the former dancer barely able to see the fingers on his hand.
Doctors said Sergei Filin was receiving family visits after undergoing a high-tech procedure to remove lesions from the third-degree burns to the face he suffered when cornered outside his home on Thursday night.
"The operation was a success," the Moscow city health department said in a statement carried by Russian news agencies.
The violent incident shook the global artistic community and cast a spotlight on rivalries raging between superstars of the 237-year-old institution -- one of Russia's most prominent brands.
Police have since spoken to several Bolshoi staff members as they sift through allegations that the attack was triggered by either personal rivalries or criminals with links to the globetrotting troupe.
Filin -- a principal dancer before moving into the artistic management side -- said in his first detailed post-attack interview that he had felt threatened for several weeks.
"I associate what happened with my work," Filin told the mass-circulation Komsomolskaya Pravda daily.
"The only thing I blame myself for is carelessness," he added. "I should have told the media about the threats right away, before New Year."
Friends said that Filin had told them about his car tyres being slashed and his social media account being hacked -- and its explicit content republished -- within the past few weeks.
Filin named no suspects in the interview while hinting darkly that he knew where the trouble was coming from.
He told the paper that "a single decision" at the top could have ended both the infighting and threats against his life.
"And if today, after this attack, this decision is not taken, I do not know what else has to happen for our country's authorities and law enforcement agencies to take notice," he said.
Doctors said the hooded assailant threw the sulphuric acid cocktail on the right side of Filin's face.
As a result, the former dancer has begun recovering his vision first in his left eye, while his right could barely distinguish between shadows of dark and light.
"My eyes worry me the most," Filin said in the interview.
Filin said he experiences moments of optimism when focus returns to his left eye enough for him to see the outlines of his hand.
"Sometimes I get to see all the fingers on my hand," Filin said. "This fills me with optimism and hope."
"I have three sons," he added. "I want to see how they grow up and get up on their feet."
Doctors said Monday they hoped to restore Filin's vision in at least his left eye while ruling out the possibility of his travelling abroad for treatment because of his weakened state.
The third-degree burns forced Filin to undergo an emergency eye operation on Friday. A second such procedure has been scheduled for Wednesday.
Doctors said the dancer was sleeping well and enjoying a healthy appetite -- signs that he had not slipped into depression.
He himself promised with a touch of humour to return as strong as ever to his job.
"I don't promise to come back looking pretty. But I guarantee that I will come back full of strength."