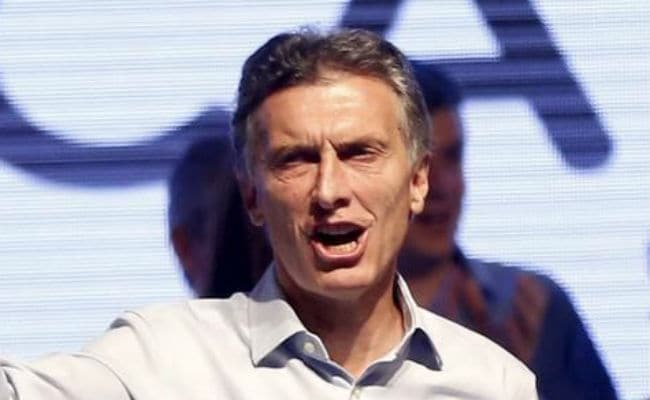 Buenos Aires:
Argentina's conservative new president, Mauricio Macri, got down to business Monday by eliminating or cutting a string of taxes on agricultural and industrial exports, seeking to kick-start Latin America's third-largest economy.
Macri, whose inauguration Thursday ended more than a decade of left-wing rule, had promised on the campaign trail to slash the South American farming giant's steep taxes on agricultural exports, which triggered major protests by producers against former president Cristina Kirchner.
He fulfilled that promise at a meeting with farmers in the heart of the Argentine breadbasket, announcing the end of taxes on wheat, corn and sorghum exports and a tax cut on soybean exports, from 35 percent to 30.
Then he met with industrialists to announce an end to the five-percent tax on their exports, as well.
"Let's not think of things in terms of 'farms versus industry,'" he told farmers in the town of Pergamino, in the heart of the fertile plains known as the Pampas.
"It's farms and industry, farms and the country. Without farms, the country can't survive."
Farmers had accused Kirchner of saddling the agricultural industry with an unfair share of the national tax burden, hurting their international competitiveness.
Macri vowed those days were over.
Taxes on wheat and corn exports were previously 23 and 20 percent, respectively.
The taxes had been introduced in 2008 under Kirchner.
Protests over the steep rates paralyzed the agriculture sector that year and turned into a crisis for her government.
Argentine farmers have been hoarding their crops in hopes of more favorable conditions.
Outside Argentina, the tax cuts stoked fears of a glut of grains and soybeans, at a time of already-low global prices for agricultural commodities.
Argentina's farmers have an estimated 17 million tonnes of soybeans, 20 million tonnes of corn and 10 million tonnes of wheat in stock.
European grain prices were down after Macri's announcement.
Argentina is the world's third-largest producer and exporter of soybeans, after the United States and Brazil, and the largest producer of soy products.
The country vies with Ukraine for the title of third-largest corn exporter, and is the seventh-biggest wheat exporter.
'Double production'
The export tax cuts are the first of the economic reforms promised by Macri, who has vowed to overhaul Kirchner's legacy of hands-on economic management, including protectionist import controls, heavy taxes on agricultural exports and an official exchange rate.
"We have to reward exporters. As of today there will be no more taxes withheld on industrial exports," Macri told the Argentine Industrial Union.
The country has major export industries in the food, automotive, and aluminum and steel sectors.
Argentina's economy is suffering from high inflation and faces warnings of a recession next year.
Its foreign reserves are also precariously low, and Macri urgently needs farmers to start exporting their hoarded crops -- a key source of hard currency for the central bank.
Agricultural exports are expected to total $25 billion this year, a third of Argentina's total exports.
Macri encouraged farmers to grow even more and ramp up production of processed products.
"We can double Argentina's food production," he said, calling for "more corn, more beef, everything we're capable of."
Macri's pledge to let the peso currency float freely, a move that will likely trigger a steep devaluation, is also likely to boost Argentine exports by making them cheaper.
Exporters in both the industrial and agricultural sectors are pressing for a devaluation.
At the official exchange rate, the Argentine peso is currently at less than 10 to the dollar, but on the black market, the rate is around 15 to the dollar.