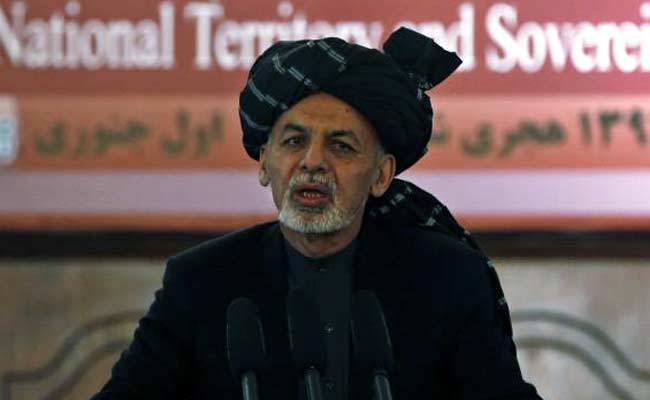 Kabul:
In pursuing rapprochement with Pakistan and the United States, Afghan President Ashraf Ghani is the very antithesis of his fiery predecessor, but his unprecedented diplomatic overtures have prompted rumblings of unease back home.

Since coming to power in September, Ghani has sought to jumpstart long-stalled negotiations with the Taliban for a peace agreement 13 years after they were toppled in a US-led invasion.

Ghani has courted Washington to slow the drawdown of US troops and longtime nemesis Pakistan, which has historically backed the Taliban, in what observers say is a calculated gambit to pressure the insurgents to the negotiating table.


But he walks a tightrope with conservatives, including some within his own fractious national unity government, who are distrustful of Pakistan and wary of Kabul being seen as too obsequious to Washington.
Former Afghan president Hamid Karzai, well known for his anti-US and anti-Pakistan tirades, and others have warned strongly against Afghanistan's tilt towards Islamaba, often accused of playing a "double game" and covertly nurturing the Taliban.
Ghani, an American-educated former World Bank official who uses a more measured tone, has offered unprecedented concessions to Pakistan including cooperation on military and intelligence matters.
He sent Afghan cadets to study at the Pakistani military academy and reportedly suspended Karzai's long-standing order for heavy arms from India, whose influence in Afghanistan has long made Pakistan wary.
"On the need to have a rapprochement with Pakistan, there are two sceptical constituencies: One that does not see any substance in Pakistan's policies and predicts the recurrence of 'business as usual' in coming months," said Davood Moradian, director of the Afghan Institute of Strategic Studies.
"The second constituency worries about the cost of rapprochement with Pakistan. Would Afghanistan give up its democratic constitutional process to create space for the Taliban? Would it mean giving up its independent foreign policy?
Would Afghanistan become Pakistan's (captive) market and passage to Central Asia?"
"Ghani has to address both constituencies," Moradian told AFP.
Islamabad insists that both countries have shared goals in defeating terrorism and Ghani believes its support is crucial in persuading the Taliban to enter peace talks as well as denying them safe havens on Pakistani soil.
Ghani has cited a massacre by Pakistan's Taliban at a school in the Pakistani city of Peshawar in December that killed 153 people, mostly children, as helping to bring the two governments closer together.
"Terrorists neither require passports nor recognise nationalities," Ghani said during his landmark US visit last week.
"I'm hopeful that we will have sufficient wisdom not to sink but to swim together," he added.

'Ghani is Not Karzai'


Even if sincere, how much influence Pakistan currently wields over the Taliban is yet to be tested.
The insurgent group, which has set the absence of any foreign troops on Afghan soil as a precondition to negotiations, warned last week that Washington's decision to delay troop withdrawal will hamper peace efforts.
President Barack Obama last on Tuesday reversed plans to shrink the US force in Afghanistan this year by nearly half.
Hosting Ghani at the White House for their first presidential head-to-head, Obama agreed to keep the current level of 9,800 US troops until the end of 2015.
"If the Taliban say the US presence damages peace prospects, then we shouldn't fall for that," said Kabul-based political analyst Haroon Mir.
"They have ideological differences with us that makes an agreement difficult if not impossible. They support extremism, oppose women's rights, girls' education and freedom of speech among many other things. These are the main reasons they don't agree with us for peace," he told AFP.
But a senior member of the High Peace Council, an Afghan government body tasked with peace talks, said Ghani's overtures to Washington had complicated nascent efforts to achieve political reconciliation with the Taliban.
"I understand the need to have good relations with the world, regional countries, as well as Western countries. But I believe we have gone a little too far," he told AFP on condition of anonymity.
"On his US trip (Ghani) thanked Americans for their sacrifices, but he didn't speak about thousands of Afghans killed since the US invasion. It was a provocative act that will run against efforts for peace with the Taliban," he said.
However a large section of Afghan society welcomed Washington's decision to delay withdrawal plans, with many fearing that without continued international military support, Afghanistan, like Iraq, could spiral into chaos.
Afghan forces are bracing for what is expected to be a bloody summer push by the Taliban and the government has raised the ominous prospect of the Islamic State making inroads into Afghanistan.
"In the previous administration, Karzai had started a blame game with US that had plunged our relationship to its lowest point. He was vengeful about long term US support for Afghanistan," said Mir.
"But President Ghani is not Hamid Karzai, and that is the reason I believe he will be more successful."