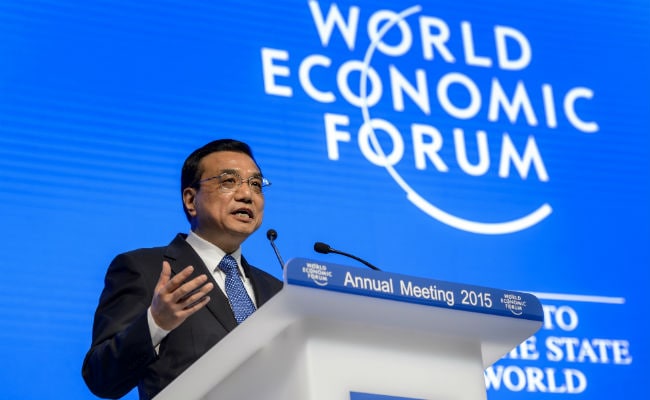 Davos, Switzerland:
Financial markets have been obsessing for months about the timing, size and structure of a European Central Bank bond-buying programme that seems likely to be unveiled today.
But business leaders, policymakers and celebrity academics gathered at the World Economic Forum in Davos had a message for all the "quantitative easing" (QE) enthusiasts: don't count on the ECB to resolve Europe's economic woes.
On the first day of the annual gathering in the Swiss Alps, former Bundesbank president Axel Weber, now chairman of Swiss bank UBS, raised questions about whether the single currency could survive unless politicians stepped up and reformed their economies.
"I have not seen enough reforms in Europe and the ECB will not fix this issue," Weber said, stressing the need for "heavy lifting" changes to labour market rules and pension schemes.
He said that if European politicians continued to rely on loose monetary policy alone, the euro project would become "increasingly difficult" to run.
"We need to move Europe to that next stage and if that doesn't happen I think there will always be questions about the viability of the project. Europe has not done enough to dispel these concerns," he said.
Former US Treasury Secretary Larry Summers said he was strongly in favour of ECB action, but added that "necessity should not be confused with sufficiency".
QE had worked in the United States, he said, because it came as a surprise and at a time when there was scope to reduce long-term US interest rates -- both conditions that Europe does not fulfil.
On top of that, it was launched in a US financial system heavily dependent on capital markets, rather than banks, for funding, giving it a larger impact. The US Federal Reserve did not shy away from announcing an unlimited bond-buying programme, something the ECB may not be prepared to do because of doubts from Germany.
Angel Gurria, head of the Paris-based Organisation for Economic Cooperation and Development (OECD), encouraged ECB President Mario Draghi to "go as far as he can" but added: "There's only so much central banks can do. Basically all they can do is wait until the governments do the right thing."
His message was echoed by Zhau Xiaochuan, the governor of the People's Bank of China.
"Monetary policy may create room, for a period, for other structural policies to come in, be implemented and do a good job. But monetary policy is not a panacea to reach the target," he said.
© Thomson Reuters 2015