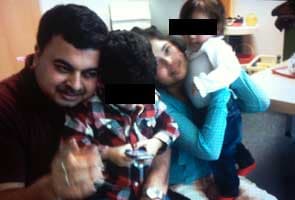 Oslo:
The chances of two NRI children returning to India has brightened with the Norwegian Child Welfare Service (CWS), which has kept them in foster care, submitting in a court in Oslo that there is no need to uphold the care order and it was in the best interest of the kids to return to their home country.
During the hearing in the child welfare case involving two Indian children, which was held in Stavanger District Court yesterday, the CWS and the children's parents submitted a joint claim to the court stating that there is an agreement that the conditions for the children being taken into care have been met.
It also said "there is no need to uphold the care order as the measures taken are considered to be sufficient in that the uncle is to take over the care of the children."
"The Child Welfare Service has, on the basis of an expert assessment, concluded that it is in the childrens' best interests that they return home to India with their uncle," a statement by the Service said. A final judgement is expected on April 23.
Abhigyan (3) and Aishwarya (1) were taken away from their parents -Anurup and Sagarika Bhattacharya- by CWS in May last year on grounds of "emotional disconnect".
Since then the case has taken various turns and the last court hearing in March was postponed in view of reports that the parents have filed for divorce. However, the parents denied this.
Prime Minister Manmohan Singh had taken up the matter with his Norwegian counterpart during the Nuclear Security Summit in Seoul last month.
Singh had said India is keen to find an "amicable" and "good" solution to the custody battle of the two young Indian children within the ambit of the law.
India has been maintaining from the beginning that the children need to sent back to the country.