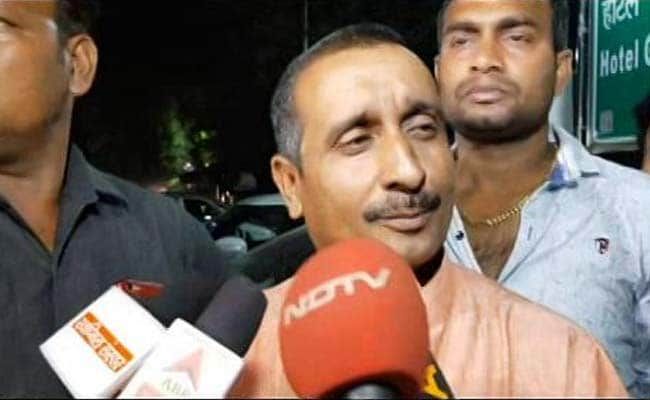 New Delhi:
Uttar Pradesh BJP lawmaker Kuldeep Singh Sengar was formally charged by the CBI today with raping a 16-year-old in Unnao. The teen had earlier this year tried to commit suicide outside Chief Minister Yogi Adityanath's government, alleging that no one was acting on her rape complaint against the ruling party legislator despite several attempts by her.
The girl's father had died in jail due to injuries allegedly inflicted by the lawmaker's brother.
Sengar, a lawmaker from Bangarmau in Unnao, was arrested by the CBI or Central Bureau of Investigation in April, amid anger and allegations that the state government was trying to shield him.
The teen alleges that she was raped by the lawmaker when she went to his home with a relative seeking a job last year.
Her father suffered severe injuries after being beaten up by Sengar's supporters. But he was the one who was jailed after the assault, under the Arms Act. He died on April 8. Four days later, the CBI started investigating the case.
The police had charged him with kidnapping and criminal intimidation and under the stringent Protection of Children from Sexual Offences (POCSO) Act but didn't arrest him.
The high court judges not only transferred the probe to the CBI but also ordered the arrest of the powerful lawmaker.
The Yogi Adityanath government also got an earful for sitting on its hands for 11 months. The court had recorded how the police had not acted on the girl's rape complaint but rushed to register false cases against her family, and how her father was thrashed "by the brother and goons of Kuldeep Singh" before being arrested "on a petty offence".
The court had called it a "disturbing feature" of the case that "the law and order machinery and the government officials were directly in league and under the influence of Kuldeep Singh".
The CBI, which filed charges against the lawmaker and his associates, told the court that the girl was raped by the BJP lawmaker at around 8 pm on 4 June 2017.
She was again kidnapped and raped by a separate group of accused between 11 and 20 June 2017, according to news agency PTI.
The girl's family, which had alleged that the police had kept lawmaker Sengar's name out of the police complaint, approached the court for directions to list him as an accused in February 2018.
The victim's father was booked by the police under the Arms Act on 3 April and jailed on 5 April. Frustrated at the police inaction, the girl attempted self-immolation in front of the Chief Minister's residence on 8 April. Her father died of the injuries the next day.