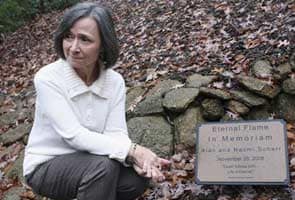 Mumbai: On November 26, 2008 Kia Scherr's husband, Alan Scherr and her 13-year-old daughter Naomi were dining at the Oberoi Trident Hotel when terrorists stormed in. David Coleman Headley, a dual citizen of America and Pakistan helped plan those attacks in which 166 people were killed, and was sentenced on Thursday by a judge in America to 35 years in prison. Ms Scherr is in Mumbai. This is her account of the attack and the sentence:
When I got to know that David Headley, the man who conspired in the Mumbai terror attacks was sentenced to 35 years, I realised that the verdict did not reflect the deplorable horrific crime he committed. He may not have been part of the ten men that landed in Mumbai that night or the one that actually pulled the trigger, but he made it possible for them to commit this act that killed hundreds and injured even more people.
The sentence should have taken into account the lives that were lost those nights. Only a life sentence would have been appropriate. A sentence where Headley spends the rest of his life behind bars contemplating his actions.
Headley already got a great deal through a plea bargain where he wouldn't be extradited to India, even though he deserves to be tried in India. But the prosecution demanded even more leniency.
But I have learnt to move beyond the terror of those nights and my disappointment with the sentencing.
I have become a 'victor' over terrorism and no longer think of myself as a 'victim' even though I lost my husband and 13-year-old daughter to the horrors of that night in 2008.
The memories of that night are still fresh in my head even though I was in Florida with my two sons. We watched the stories unfold on TV. My husband and daughter were in India for an educational trip with 25 others. They were with a meditation group who were in India to study the introduction of technology in meditation. My daughter Naomi had applied to a top girl's boarding school in New York and had scored really well. She was looking forward to finishing her application and was to submit a paper on her India experiences.
I remember getting a call from the director of the trip saying how everyone in the group was accounted for, how some of them were injured and receiving treatment. Everyone, except my husband and daughter who were having dinner at the Oberoi Hotel.
My sons then put out the pictures of my husband and daughter on CNN's website and within a few hours I received hundreds of emails offering support and prayers for the two of them.
In another few hours, I got to know that Alan and Naomi had taken bullets in the restaurant and were killed. The emails never stopped. These reflected how people from all over the world were united in our grief and taught me that as living beings we had to move beyond being victims of a terror attack.
I then decided to fight the terrorists in my own way. If terror represented ending life, I would stand for respecting and loving life. I would not let terror win. That's when I started One Life Alliance in Mumbai that helps people raise the compassion quotient and instills love and positive behaviour among people.
I now work in India six months a year where we hold programmes for school children and other organisations where we talk about 30 ways to love and honour life. It's a 30-day programme where basics like spending a whole day just slowing down are taught. When you slow down, you don't lash out, you don't fight and that slowing down is helpful to children today. We talk about simple acts like smiling, forgiving that go a long way in moulding sensitive people.
I have started working with a core team of volunteers with schools across Mumbai, even schools where street children are taught the value of life. The program is translated in Hindi, Marathi and Urdu.
My sons have supported this endeavour and believe with me that compassion and pledging to honour life is how we can deal with terrorism that talks about destroying lives. They are in California but will soon be part of this programme. They will hopefully visit India soon.
I truly believe that rather than venting and ranting about the sentencing today, we can use positive work and positive energy to combat terrorism. That's the only way we can fight it and the only way to respect the innocent people who were killed that night.
Disclaimer: The opinions expressed within this blog are the personal opinions of the author. NDTV is not responsible for the accuracy, completeness, suitability, or validity of any information on this blog. All information is provided on an as-is basis. The information, facts or opinions appearing on the blog do not reflect the views of NDTV and NDTV does not assume any responsibility or liability for the same.