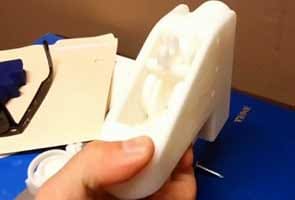 New York:
A non-profit group from Texas claims to have successfully fired a plastic gun that was made using a 3D printer.
Defense Distributed posted a video on YouTube over the weekend that purportedly shows the company's founder, Cody Wilson, firing the plastic gun.
The video shows the gun's various component parts laid out on the floor, and the 3D printer which Wilson claimed produced the gun.
According to their website, Defense Distributed is a non-profit organisation that aims to defend the rights of US citizens "to have access to arms as guaranteed by the United States Constitution and affirmed by the United States Supreme Court".
The video prompted a quick response from a member of the US Senate who has called for stricter gun control laws.
"For the first time, how to make a plastic gun that is not detectable by a metal detector is online," said Senator Chuck Schumer of New York.
"It would allow felons, it would allow even terrorists to not even leave the confines of their home and make a very deadly and dangerous gun."
An undetectable gun would violate the Undetectable Firearms Act, which expires in December.
Schumer says the act should to be extended and strengthened, and Congress should investigate plastic, printable guns.
According to business magazine Forbes, the gun fired by Wilson would not violate the law because it has one non-printed component that brings it into compliance - a six-ounce piece of steel in the body which would be picked up by metal detectors.
Forbes also reported that Defense Distributed was granted a federal firearms licence in March, which made the group a legal gun manufacturer.
Wilson is a 25-year-old law student at the University of Texas who is leading the Wiki Weapons project for Defense Distributed.
In an interview with the Associated Press last December, Wilson said he believed "in the universal access to the firearm."
He said he began work on a plastic gun because he is a staunch supporter of the right to bear arms guaranteed by the Second Amendment.
"I began the process politically," he said from his student apartment in Austin, Texas.
"I chose this technology to affect its reality. I'm not interested in making anything else."
3D printers were originally developed for the automobile, aerospace and other industries to create product prototypes from the same hard plastics used in toys such as Lego.
Last November Defense Distributed said they test fired a semiautomatic AR-15 rifle - one of the weapon-types used in the Newtown, Connecticut school massacre.
Video posted by the group on YouTube at that time indicated the gun was built with some key parts created on a 3-D printer and fired six times before it broke.
No independent observer verified the test.
Wilson said he was saddened by the Connecticut school attack but that protecting the right to bear arms by giving everyone access to guns is more important in the long term than a single horrible crime.
"Regardless if the world is better or worse, we believe in that civil liberty and that it deserves protection, protection outside of the political process," he said.
Even with gun control pushed to the top of the national political conversation in recent months, Wilson remained steadfast in pursuing his goal of creating a fully downloadable gun.
"Where this technology goes in the future is a little bit difficult to tell right now," said Ladd Everitt, communications director for the Coalition to Stop Gun Violence, a gun control advocacy group in Washington, DC.
"It's probably not something where your average Joe is going to be 3D printing guns right out of their living room. This is a guy that probably has, at this point, significant engineering expertise, really understands what he's doing, has done a ton of research," he added.
It's still unclear if what Wilson has done can easily be replicated.