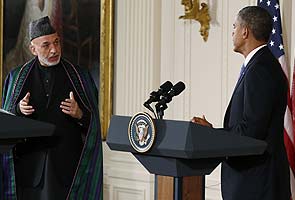 Washington:
American President Barack Obama has announced a faster than planned withdrawal of the 66,000 U.S troops from Afghanistan. President Obama made it clear that American troops would not be part of 'most' combat operations by the spring of this year. Combat operations were originally scheduled to be tapered off by the summer. U.S and other coalition forces are working on a timetable to move to training, advising and assisting Afghan troops. But, the President stopped short of specifics on numbers being withdrawn or answering the question of exactly how many troops would remain after 2014. The end of 2014 is the timeline set for only a residual U.S force to remain. The announcement came in a press conference with Afghan President Hamid Karzai in Washington.
'RESPONSIBLE' END TO WAR
Speaking alongside his Afghan counterpart, President Obama said, 'This year, we'll mark another milestone - Afghan forces will take the lead for security across the entire country. And by the end of next year, 2014, the transition will be complete -Afghans will have full responsibility for their security, and this war will come to a responsible end."
THE BEGINNING OF THE END?
The timetable of the U.S withdrawal is in marked contrast to how Barack Obama shifted the U.S military's focus from Iraq to Afghanistan, when he campaigned to be America's first black President. In 2008 in a foreign policy speech he had said, 'It is unacceptable that almost seven years after nearly 3,000 Americans were killed on our soil; the terrorists who attacked us on 9/11 are still at large. Osama bin Laden and Ayman al-Zawahari are recording messages to their followers and plotting more terror. The Taliban controls parts of Afghanistan. Al Qaeda has an expanding base in Pakistan that is probably no farther from their old Afghan sanctuary than a train ride from Washington to Philadelphia. If another attack on our homeland comes, it will likely come from the same region where 9/11 was planned. And yet today, we have five times more troops in Iraq than Afghanistan. In fact - as should have been apparent to President Bush and Senator McCain - the central front in the war on terror is not Iraq, and it never was. That's why the second goal of my new strategy will be taking the fight to al Qaeda in Afghanistan and Pakistan."
OSAMA WAS OBAMA'S 'MISSION ACCOMPLISHED
Two days after 9/11 in 2001, then President George W. Bush had said: "The most important thing is for us to find Osama bin Laden. It is our No. 1 priority and we will not rest until we find him." But it was President Obama's Operation Geronimo or Neptune Spear that killed the Al Qaeda head nine and a half years later.
Twelve years on-- Zero Dark Thirty has five Oscar nominations and has stirred up a hornet's nest. Whether it's a suspense thriller of the biggest manhunt in history, a CIA PR exercise or just grossly inaccurate is not the point. The point is Osama bin Laden was Barack Obama's mission accomplished.
2009: OBAMA ORDERS TROOP SURGE
In October 2008 in a campaign speech then Democratic Senator from Illinois, Barack Obama had signalled his intentions: ""It's time to heed the call from General McKiernan and others for more troops. That's why I'd send at least two or three additional combat brigades to Afghanistan. We also need more training for Afghan Security forces, more non-military assistance to help Afghans develop alternatives to poppy farming, more safeguards to prevent corruption, and a new effort to crack down on cross-border terrorism. Only a comprehensive strategy that prioritizes Afghanistan and the fight against al Qaeda will succeed, and that's the change I'll bring to the White House."
That's one change he brought to the White House-- ordering a troop surge in Afghanistan in 2009. 30,000 troops were flown in to Afghanistan bringing the U.S strength to over 100,000. Contrast that with the current 66,000 and the drawdown that President Obama has ordered for the years to come.
2014: DEBATE ON RESIDUAL FORCE
But, he's deliberately left the exact number of troops being withdrawn vague. Military commanders have proposed between 3,000 to 30,000 to stay after 2014--even if not in direct combat roles. The debate is over how many--or if any-- need to stay to keep Afghanistan stable and al Qaeda or the Taliban incapable of another 9/11. Sources say that decision may take months--though the White House is known to favour lower troop levels than America's generals.
In what's seen as negotiating tactics with the visiting Afghan President, the U.S deputy national security advisor Ben Rhodes told reporters that pulling out all troops by 2014 was still an option: "We wouldn't rule out any option. We're not guided by the goal of a certain number of U.S. troops in the country. We're guided by the objectives that the president set - disrupt, dismantle, defeat al-Qaida."
TALKING TO THE TALIBAN
That disruption of al Qaeda has now led to the policy of pursuing talks with the Taliban. It's seen as admitting that a political solution has to be found as well. America recognises it can't leave with the militant group still having a clear and present danger not only to the administration in Kabul--but to the U.S homeland. This is tricky ground--why should the Taliban talk?--who to talk with in the Taliban?--where to talk with them? Another agreement reached on President Karzai's trip was officially formalising an already de-facto Taliban office in Qatar. Hamid Karzai said, "We also agreed on the steps that we should be taking in the peace process, which is of highest priority to Afghanistan. We agreed on allowing a Taliban office in Qatar - in Doha, where the Taliban will engage in direct talks with the representatives of the Afghan High Council for Peace, where we will be seeking the help of relevant regional countries, including Pakistan."
'PAKISTAN IS KEY TO AFGHAN PEACE'
Much political change is due: In Pakistan--elections are due this year, in Afghanistan--Presidential elections are in 2014 and in the U.S as well. In his second term, President Obama is dismantling the national security team that dealt with Afghan President Karzai. Senator John Kerry replaces Hillary Clinton and Senator Chuck Hagel will lead the Pentagon.
The American and Afghan leaders know that Islamabad's role for war or peace is key. At the press conference, President Obama again warned, 'Reconciliation also requires constructive support from across the region, including Pakistan. We welcome recent steps that have been taken in that regard, and we'll look for more tangible steps - because a stable and secure Afghanistan is in the interest not only of the Afghan people and the United States, but of the entire region."
2014: POLITICAL, MILITARY, ECONOMIC TRANSITION
2014 is not only the deadline set for foreign troop withdrawal. It's also the year Hamid Karzai steps aside and elections will be held for his successor. So, Afghanistan will see military, political and economic transition. Afghanistan, one of the world's 10 poorest countries, has received nearly 60 billion dollars in civilian aid since 2002. The World Bank says foreign aid is almost equal to the country's gross domestic product. The international community has promised 16 billion dollars in the decade after 2014. But, will the U.S and the world also put their mouth where their money is and not abandon Afghanistan like they did after the Soviets were sent packing in 1988? That's the key question for Afghanistan, the region and the U.S. In particular the U.S--since that abandonment then-let 9/11 happen and forced Washington to send more than 100,000 troops in the first place. Troops that are leaving. But can the world afford to leave too?