WASHINGTON:
President Donald Trump on Wednesday formally recognized Jerusalem as Israel's capital, defying warnings from other Middle East countries and some U.S. allies in a politically risky move that he insisted would not derail efforts to broker a peace deal.
But in a sign that the move could backfire, Palestinian President Mahmoud Abbas slammed Trump's announcement as a "declaration of withdraw" by the United States from the peace process, according to the Associated Press.
In a midday speech at the White House, Trump defended his decision as "long overdue" recognition of reality given that Jerusalem is the seat of Israel's parliament, supreme court and prime minister's office. He argued that an agreement between the Israelis and Palestinians has remained elusive for more than two decades even as his predecessors declined to recognize the contested Holy City as Israel's capital.
"Some say they lacked courage, but they made the best judgment based on the facts as they understood them," Trump said, speaking in the Diplomatic Reception Room. "Nevertheless, the record is in. After more than two decades, we're no closer to a lasting peace agreement."
Trump added that "it's folly to assume that repeating the exact same formula will produce a different or better result."
The announcement came a day after senior White House aides previewed Trump's decision, and the president also ordered the State Department to begin planning to move the U.S. Embassy from Tel Aviv to Jerusalem, a process that administration officials said would take several years. After his remarks, Trump signed another six-month waiver to maintain the embassy compound in Tel Aviv, which senior aides said was meant to ensure funding was not eliminated under a 1995 law even as planning for a new embassy would commence.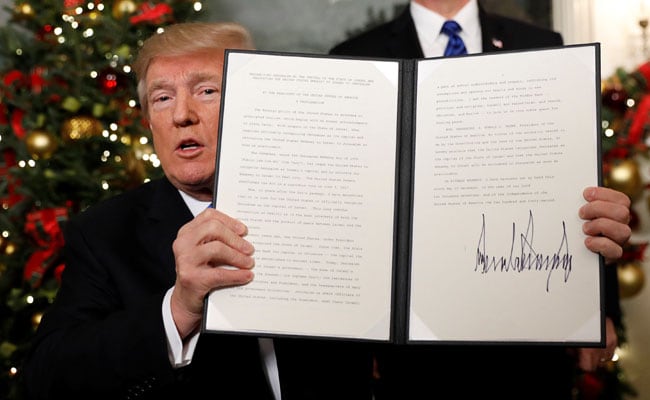 Trump emphasized that despite his decision he remained committed to helping broker a peace agreement. The White House is working on a peace plan to be unveiled sometime next year.
"The United States remains deeply committed to helping facilitate a peace agreement that is acceptable to both sides," Trump said. "I intend to do everything in my power to forge such an agreement."
The announcement set off a flurry of reactions in Washington, Europe and the Middle East. Trump spoke with Abbas on Tuesday to inform him of the decision and Abbas told him his government would not accept the move.
In Israel, Prime Minister Benjamin Netanyahu hailed the president's announcement, calling it "a historic day" and stating that his nation is "profoundly grateful for the president for his courageous and just decision."
Other Middle East nations and some U.S. allies condemned the decision ahead of Trump's speech, suggesting the shift in policy would inflame regional tensions and make the process of brokering a peace deal between the Israelis and Palestinians more difficult.
"We think it's an unwise step and a counterproductive step. If we want to solve at some moment the conflict between the Palestinians and the Israelis, we need a two-state solution, and a one-sided step is not going to help," Dutch Foreign Minister Halbe Zijlstra said Wednesday.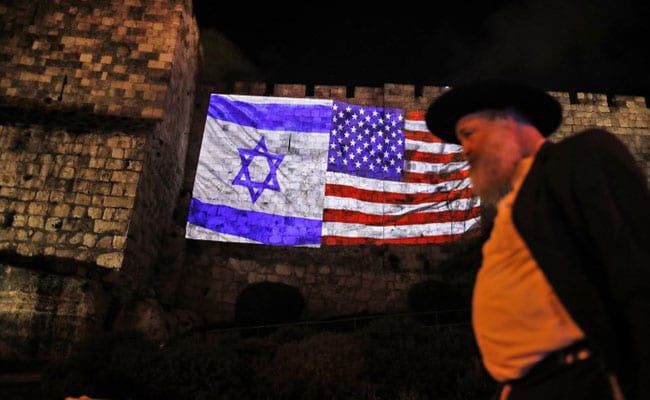 "I don't think we can use another conflict in this very explosive region," Zijlstra said, adding that he had conveyed his concerns to U.S. Secretary of State Rex Tillerson in Brussels, during a NATO meeting.
But Tillerson insisted such concerns were misguided. Attending the meeting in Brussels, Tillerson said: "We continue to believe there is a very good opportunity for peace to be achieved."
"The president is very committed to the Middle East peace process," Tillerson said. "He has a team he put into place. That team has been working very diligently."
Trump campaigned on a promise to move the embassy to Jerusalem, a move popular among evangelicals. A slew of evangelical leaders, including former Arkansas Gov. Mike Huckabee and Robert Jeffress, senior pastor at First Baptist Church in Dallas, released statements of praise on Wednesday.
In Washington, Trump drew bipartisan support on Capitol Hill from Republicans and some Democrats.
In a statement, Sen. Marco Rubio, R-Fla., called the announcement "an important step in the right direction" and added that "unequivocal recognition of Jerusalem as Israel's capital will be complete when the U.S. embassy is officially relocated there."
Rep. Eliot L. Engel, N.Y., the top Democrat on the House Foreign Affairs Committee, said the decision "helps correct a decades-long indignity."
Yet House Minority Leader Nancy Pelosi, D-Calif., said that Trump's move was premature and warned of "mass protests." Late last month, the State Department sent a memo to embassies in the Middle East warning of potential unrest.
"In the absence of a negotiated settlement between Israel and the Palestinians, moving the U.S. embassy to Jerusalem now may needlessly spark mass protests, fuel tensions, and make it more difficult to reach a durable peace," Pelosi said.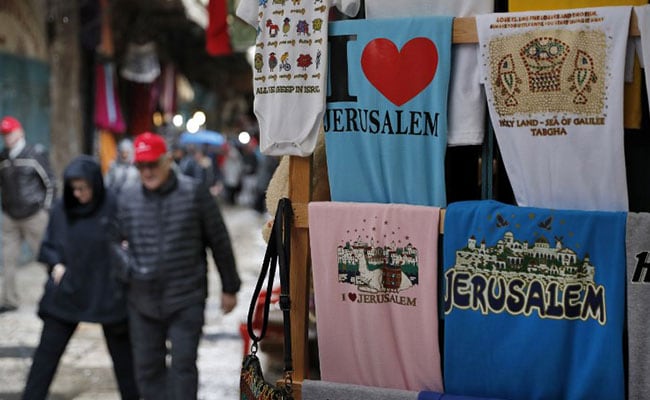 White House aides emphasized that Trump's decision would make clear to Middle East countries that the president, who campaigned on promises to move the embassy, keeps his word. Senior adviser Jared Kushner and other top administration officials are working on a proposed peace plan for the region, but aides said it is not imminent and the team would have time to factor in public reaction to Trump's speech.
One administration official, speaking on condition of anonymity, acknowledged that the Palestinians would likely threaten to reject peace talks. But this person said the White House recognized that peace deals often are not linear in how they are negotiated and that such deals are often presumed dead more than once before they reach the finish line.
"By overturning a decades-long policy adopted by administrations of both parties, President Trump is casting aside America's role as a mediator in the Middle East conflict [and] harming our Muslim allies," said Nihad Awad, executive director of CAIR, the nation's largest Muslim civil rights group.
In his remarks, Trump acknowledged that "there will of course be disagreement and dissent regarding this announcement, but we are confident ... that when we work through our disagreements we will arrive at a peace and a place of far greater understanding and cooperation."
The Jerusalem municipality announced ahead of Trump's speech that it would illuminate the ancient walls of Jerusalem Old City with an Israeli and an American flag, "as a token of appreciation to President Trump for his recognition of Jerusalem." The city said that American flags would be hung on the streets surrounding the U.S. consulate.
(This story has not been edited by NDTV staff and is auto-generated from a syndicated feed.)
Get Breaking news, live coverage, and Latest News from India and around the world on NDTV.com. Catch all the Live TV action on NDTV 24x7 and NDTV India. Like us on Facebook or follow us on Twitter and Instagram for latest news and live news updates.