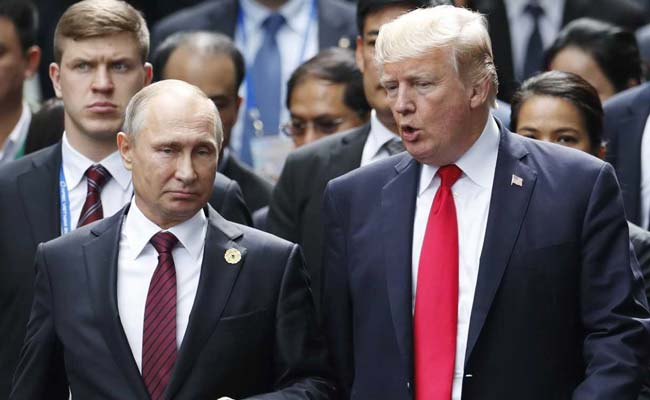 Washington:
Donald Trump has ordered an unprecedented expulsion of Russian officials and warned the Kremlin needs to change, a setback for his courtship of Vladimir Putin, but perhaps not its end.
On the face of it, the latest iteration of Washington's endless "reset" of relations with Moscow is in serious trouble.
Having wooed Putin for the better part of two years, the 71-year-old US president on Monday expelled 60 alleged Russian spies.
True to Trump's embrace of superlatives, that was the largest single expulsion of Russians or Soviet intelligence officers on record, according to one senior official.
Trump also ordered the closure of the Russian consulate in Seattle -- within snooping distance of a US submarine base and a plant run by aircraft-maker Boeing, one of the president's favored companies.
Trump's aides, aware that Americans think he and Putin are too cozy, stressed the expulsions were the president's decision.
It was "a decision that he was involved in from the beginning and that he personally made after several meetings," said a senior administration official.
Trump "was briefed on the ongoing preparations throughout the weekend," he added.
The expulsion announcement was accompanied by an out-of-character warning that Russia has to change if Trump's stated aim of better ties are to come true.
Better relations "can only happen with a change in the Russian government's behavior," the White House said.
It seemed like, as with US presidents past, the scales may be falling from Trump's eyes when it comes to the former KGB officer who now runs Russia.
George W. Bush declared at the beginning of his presidency that he was able to look Putin in the eye and "get a sense of his soul," but later came to publicly acknowledge a misreading of the Russian leader.
Barack Obama's aides admit it took him one failed "reset" and a series of confrontations, including over Russia's annexation of Crimea, to realize that Putin's interests and the interests of Russia were often not the same.
Those claiming a similar shift in Trump's stance can now point to Monday's expulsions and US sanctions earlier this month against Russians for election meddling and cyber attacks.
But for the last 14 months in office, Trump has sent one message to Russia and his administration has sent quite another.
'Not done with sanctions'
While officials have fumed at Russia's "malicious contempt" for others' sovereignty, and Defense Secretary Jim Mattis has toured the world reassuring jittery allies, Trump has sung from his own script.
His remarks -- both public and private -- have been markedly more conciliatory toward Putin.
The Kremlin will notice that Monday's warning that better ties are at risk came, symbolically, from press secretary Sarah Sanders, not Trump himself.
Even before he entered the White House, Trump had aggressively defended his engagement with Russia.
Brushing aside invasions and bombings and meddling, he has argued that the route to solving issues from Ukraine to Syria to arms control to terrorism runs through Moscow.
In December, he marveled that cooperation between the CIA and Russian agencies had prevented a "major terrorist attack" in Saint Petersburg.
He went on to stun critics by suggesting a joint cybercenter with the Kremlin, despite Russians being charged by special counsel Robert Mueller over their alleged interference in the 2016 election which Trump won.
"I believe that President Putin really feels -- and he feels strongly -- that he did not meddle in our election," Trump said during a trip to Vietnam last November.
Trump and Putin have met at least twice and the US leader's comments towards his counterpart have been effusive, speaking of good "chemistry" and a relationship of peers.
Last week, Trump aides warned him: "DO NOT CONGRATULATE," but he did so anyway in a phone call to Putin after his re-election as Russian president.
In response to Trump's expulsions, Moscow has already promised tit-for-tat measures.
An escalation seems inevitable.
"Washington probably is not done with sanctions against Russia over other issues," said Alex Brideau, a consultant with Eurasia Group, "but pressure will remain on President Donald Trump's administration to respond further" to cyber breaches and other issues.
That will only create more domestic headwinds for Trump's effort to improve ties.
But Trump -- never eager to admit failure -- may see this latest crisis as more evidence of the costs in butting heads with Moscow.
Who would bet that president and his administration will now get on the same page?
(This story has not been edited by NDTV staff and is auto-generated from a syndicated feed.)