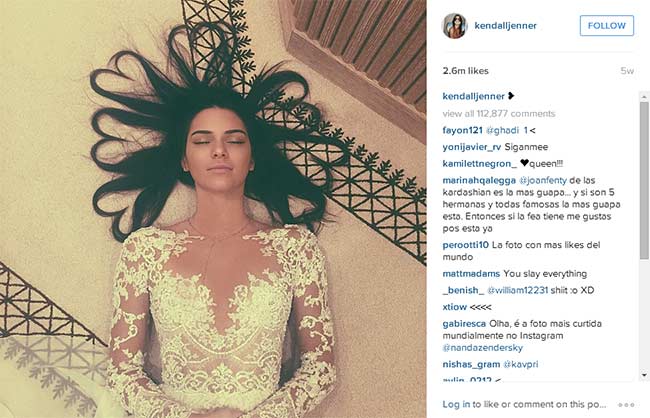 Even if you're not familiar with the oeuvre of Kendall Jenner, you might be interested to know that the model and muse can add "owner of the most-liked-ever picture in the history of Instagram" to her already pretty extensive (two pages!) CV.
This shot of her lying on her back was posted five weeks ago, but has received a flooring 2.6m hits. That's roughly 51 likes every minute, one for every heartbeat. It's also interesting because the previous record holder was her sister Kim, whose wedding shot with Kanye is currently on 2.4m hits. While neither is unlikely to find its way into the National Portrait Gallery, it could serve as a valuable lesson in how to get liked on Instagram, the only place where being liked really matters.
The hair
Aside from breaking the crucial cool rule of Instagram (manufactured spontaneity), the hair hearts pose many questions. Is she in love? Is she referencing the other star of Instagram, Persian poet-turned-hashtag, Rumi, with a visual affirmation about love? Or is she alluding to the fact that 2015 is the 60th anniversary of Swizel Love Hearts, thus securing the Stockport and Greater Manchester vote?
The vibe
Look past the Best-Western-carpet vibes and you'll see that Jenner is actually referencing Ophelia by Elizabeth Siddel or Tennyson's Lady of Shallot, which is one surefire way to getting first year BA EngLit students to click.
The face
Kim cocked up royally, according to the Georgia Institute of Technology and Yahoo Labs researchers by appearing side-on with her husband, Kanye, at their wedding, because, as we all know, pictures with faces are 38% more likely to receive likes than photos with no faces. Jarring, when you consider that Kim invented the selfie.
The dress
This number closely resembles Lebanese designer Ellie Saab's dreamy, ethereal SS16 couture collection, a good way to get the Beirut vote. That, or Givenchy, of which Kenner is a catwalk mainstay (thanks, France, now please click like). That or she's done "a Muriel" and prematurely bought a wedding dress :-(.
The carpet
Don't be distracted by the Best Western vibes - this pattern is loosely modelled on the "Algiz" runestone, which represents protection, opportunities, challenges and victory. Decent foresight, to be fair.