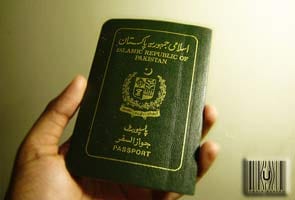 Islamabad:
A Pakistani passport is among the worst to travel on as the country's citizens can only enter 32 countries without a visa, according to a survey.
Pakistan shared its ranking with Somalia in the list of some 200 countries surveyed by Henley & Partners, beating Iraq which ranked 92nd and Afghanistan, which came in last.
India ranked higher than all three countries at 74. Indians can travel visa-free to only 52 countries.
The report said Pakistanis had access to only 32 countries without a visa, while Afghans could access just 28.
The Visa Restriction Index 2013 was released by Henley & Partners to rank countries based on the visa-free entry enjoyed by their citizens. The firm analysed visa regulations around the globe to determine the results.
"Pakistan, Somalia, Iraq and Afghanistan remain in the bottom four places of the ranking, which means that citizens of these countries enjoy the least freedom of travel," the firm said in a statement.
Contrary to popular perception that an American passport can get you anywhere, Finland, Sweden and Britain tied in first place as their citizens can travel visa-free to 173 countries. Americans can travel to 172 countries without a visa.