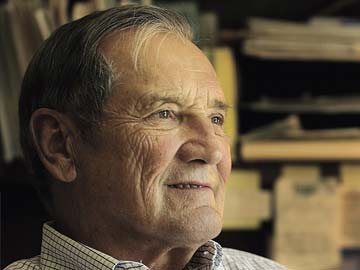 Seoul:
North Korea confirmed on Saturday that an American retiree and Korean War veteran has been detained for "hostile acts" against the communist country and released a written apology for his alleged crimes.
Merrill Newman, a 85-year-old veteran of the Korean War from California, was held in October after entering the North "under the guise of a tourist", the country's official KCNA news agency said.
It is the first time the reclusive state has officially admitted holding Newman, whose family said he was detained on 26 October shortly before take-off from Pyongyang following a 10 day tour.
The KCNA report said Newman had been accused of committing crimes both as a tourist and during his participation in the Korean War.
He has been accused of infringing upon the "dignity and sovereignty" of the communist country and "slandering its socialist system, quite contrary to the purpose of the tour", it said.
Newman, who worked as advisor at a US military intelligence unit in 1953, had also "masterminded espionage and subversive activities" during the 1950-53 Korean War and was involved in the killing of North Korean soldiers and "innocent" civilians, KCNA added.
In a separate report, KCNA published what it said was an "apology" written by Newman admitting his crimes.
"During the Korean War, I have been guilty of a long list of indelible crimes against DPRK government and Korean people," he said in a letter of apology released by KCNA which contained bad English.
He asked for forgiveness, saying: "I realise that I cannot be forgiven for my offensives but I beg for pardon on my knees by apologizing for my offensives sincerely toward the DPRK government and the Korean people and I want not punish me".