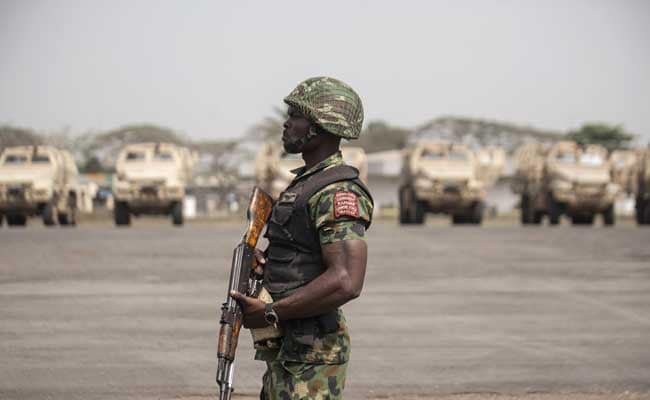 Zaria, Nigeria:
Officially, there's been no death toll from two days of clashes between Nigerian troops and a Shiite Muslim group in the northern city of Zaria last month.
But talk on the ground is of 300, 400, 600 or more -- a huge number even in a region where at least 17,000 have been killed in Boko Haram's Islamist insurgency since 2009.
On Thursday, the Islamic Movement of Nigeria (IMN) Shiite group said 730 of its members were unaccounted for, "either killed by the army or... in detention", describing the violence as a "pogrom".
At Zaria's Ahmadu Bello University Teaching Hospital (ABUTH), where most of the victims were taken, a medic backed up claims of a huge loss of life.
"On Sunday (December 13), I counted up to 400 bodies in the morgue before I lost count," the medic told AFP on condition of anonymity because he was not authorised to talk on the issue.
"There were over 300 bodies littering the street near (IMN leader Ibrahim) Zakzaky's home on Sunday and Monday," added one local reporter who covered the unrest.
"When we called the (ABUTH) chief medical director late Saturday, he told us the hospital had received 300 bodies before he closed and the figure could have risen after he had left."
Soldiers took all the bodies away on Monday December 14, both said.
'Rights Abuses'
Human Rights Watch believes "at least 300" people were killed in Zaria, while Amnesty International puts the figure at "hundreds". Both called for full investigations.
Nigeria's military high command, frequently accused of abuses against civilians in the Boko Haram conflict, has dismissed the claims as "unsubstantiated".
But Amnesty senior research advisor Lucy Freeman said soldiers "going above and beyond and outside of the rule of the law" was not unusual.
"It's part of a pattern of problems of excessive force and human rights violations by the Nigerian military," she said.
HRW's senior Nigeria researcher Mausi Segun said the troops' response was more disturbing because President Muhammadu Buhari, a former army general, had vowed to overhaul the military.
"It is shocking this level of violation would be carried out by the military," she added.
"There is no overt action on the part of the government to quickly respond to this situation and assure Nigerians that Buhari is indeed the democratic leader that he claims to be, that this is not a military dictatorship."
'Gunfire And Explosions'
The violence was sparked when a makeshift road block erected during a religious procession blocked the convoy of Nigeria's chief of army staff, General Tukur Yusuf Buratai.
The army later claimed IMN supporters tried to assassinate the general, a charge denied by the group.
In the aftermath, Zakzaky's house in Zaria's Gyellesu neighbourhood and the IMN mosque, the Husseiniyya, were destroyed.
Zakzaky's deputy, his three sons, the group's spokesman and its head of security were among the dead. The cleric himself was shot several times before he was arrested.
A second reporter said teenaged boys rummaged through the pockets of the dead for money, mobile phones and other valuables as soldiers watched.
Residents locked themselves in their homes as the battle raged throughout the night.
"While soldiers were shooting, the Shiites were hurling stone missiles and Molotov cocktails at the soldiers," said one resident in Gyellesu.
"I doubt if many of the Shiites managed to escape."
Soldiers were withdrawn more than two weeks after the clashes but plainclothed security personnel are still believed to be in the area. People remain wary about talking publicly of the violence.
'We Have Killed The Phone's Owner'
Zakzaky and his group have previously clashed with Nigeria's secular authorities over their quest for ISIS through an Iranian-style revolution.
The cleric has periodically been incarcerated for alleged incitement and subversion.
But there are fears the latest confrontation could have the opposite effect, galvanising IMN supporters into a more violent campaign similar to Sunni jihadists Boko Haram.
"I think what we've seen time and again in Nigeria, when you operate outside the rule of law, it doesn't help the situation, it makes it worse," said Amnesty's Freeman.
Another local journalist said soldiers told him during Buratai's visit they were going to arrest Zakzaky "dead or alive".
As the violence raged overnight he called the IMN spokesman for updates and was told to call back when he reached Zakzaky's home.
"When I called his cellphone later an unfamiliar voice just answered, 'We have killed the owner of this phone' and I immediately realised it was a soldier," he said.