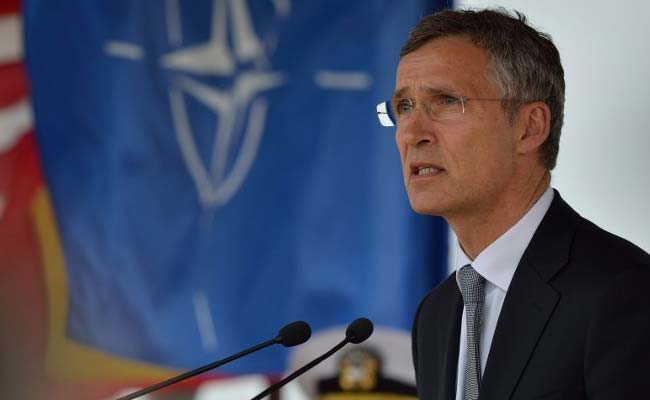 Brussels, Belgium:
NATO's commitment to defend all allies against any threat is "unconditional" and irrespective of whether they pay their dues, alliance head Jens Stoltenberg said on Tuesday.
Asked his view of remarks by US Republican presidential candidate Donald Trump that, should he win, US commitment would depend on members keeping up with their contributions, Stoltenberg stressed first he did not want to get drawn into the US election campaign.
But he added, "I have clearly stated that what matters for NATO is that we don't say that if you don't pay, we don't protect you," he told a press briefing at NATO HQ in Brussels ahead of a two-day alliance defence ministers meeting.
Stoltenberg said NATO leaders decided in 2014 to increase defence spending to counter a more assertive Russia and that the 28 alliance members had reversed years of defence cuts and that their spending had been increasing since 2015.
"This was not something caused by the US election," he said.
As for NATO's 'all for one, one for all' defence commitment enshrined in Article 5 of the alliance's founding treaty, he said this could not be subject to any conditions if it was to be an effective deterrence to aggression and a reassurance to allies -- including the United States.
"I would like to underline that NATO security guarantees are not conditioned, they are absolute and unconditional," he said.
Stoltenberg recalled that the only time Article 5 had been invoked was after the 9/11 terror attacks on the United States and that NATO's largest ever military operation in Afghanistan was fought on this basis to protect America.
The United States is the largest military power in NATO and accounts for some two-thirds of the alliance's combined defence spending.
Washington has pressed the allies to spend more for years and they finally agreed in 2014, largely in response to Russian intervention in Ukraine, to allocate the equivalent of two percent of GDP to defence in coming years.
Trump said in July that in the event of a Russian attack on the Baltics, NATO's newest members, Washington might assess whether those nations "have fulfilled their obligations to us" before deciding to come to their rescue.
(Except for the headline, this story has not been edited by NDTV staff and is published from a syndicated feed.)