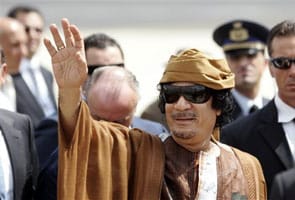 Tripoli, Libya:
Libya has released 37 Islamists, including a former driver of Al-Qaida chief Osama bin Laden and members of the Libyan Islamic Fighting Group (LIFG).
Wearing white traditional robes, the mostly young detainees were assembled in a tent put up in Tripoli's Abu Salim prison on Tuesday where they were joined by their families.
Bin Laden's former driver, Nasser Tailamoun, and former Guantanamo detainee Abu Sofian Ben Guemou, handed over by the Americans in 2007, were among those released, according to the Kadhafi Foundation.
The others were members of or connected with the LIFG, or jihadists who collaborated with Al-Qaida in Iraq or in north Africa, a prison official said.
The release came just before the 41st anniversary of the Libyan revolution which brought Colonel Moamer Kadhafi to power.