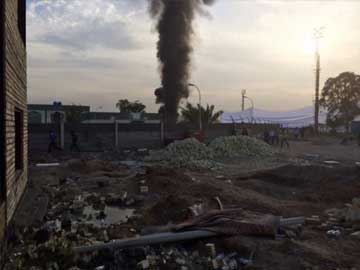 Baghdad:
The death toll from twin jihadist bombings that struck a Shiite political rally in the Iraqi capital ahead of next week's parliamentary election has risen to 33, officials said on Saturday.
Friday's attack by a Sunni militant group came at the height of campaigning ahead of Wednesday's polls, the first since US troops withdrew in late 2011 and with Prime Minister Nuri al-Maliki seeking reelection amid the country's worst violence since a brutal Sunni-Shiite sectarian war.
A car bomb followed by a suicide attack hit the rally for the Sadiqun bloc, the political wing of the Asaib Ahel al-Haq (League of the Righteous) militia, killing 33 people and leaving more than 100 wounded, security and medical officials said.
Officials had said earlier that 28 people died.
The League of the Righteous, a Shiite militia blamed in the past for killing US soldiers and kidnapping Britons, has been linked to groups fighting mostly Sunni rebels in Syria, whose civil war has split the Middle East's sectarian communities, particularly in multi-confessional Iraq.
The Islamic State of Iraq and the Levant claimed the attack, saying it was to avenge the League's involvement in neighbouring Syria.
ISIL, itself fighting in Syria, made the claim in a statement on jihadist forums hours after the attack.
The attack was "in revenge for what the Safavid militias are doing in Iraq and Sham (the Levant), killing and torturing and displacing Sunnis," it said.
It used a pejorative term for Iraq's Shiite majority, linking it to the Safavid empire that once ruled neighbouring, predominantly Shiite Iran.
Iraq heads to the polls on Wednesday with little sign of any respite in the bloodshed, and the country still looking to rebuild after decades of conflict and sanctions.
A number of Shiite blocs are vying with Maliki for votes in his traditional heartland of central and southern Iraq.
They include Sadiqun but also the Ahrar movement, which is linked to powerful cleric Moqtada al-Sadr, and the Citizens bloc, a formerly powerful political group seen as close to Iran.