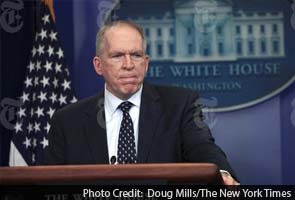 President Barack Obama will announce Monday that
John O. Brennan
, his counter-terrorism adviser and a career CIA officer, is his choice to head the agency, two months after David H. Petraeus stepped down after admitting to an extramarital affair, a spokesman for the National Security Council said.
Brennan's nomination will be announced at 1 p.m. along with that of
Chuck Hagel
, the former maverick Republican senator from Nebraska, whom the president has chosen for secretary of defense, said the spokesman, Thomas Vietor.
In Obama's first term, Brennan, 57, has played a central role in the oversight of Obama's use of targeted killing of suspected terrorists using drones in Pakistan, Yemen and Somalia. He has become one of the president's most trusted advisers, and administration officials had said that the CIA job was his for the asking.
The president had considered naming Brennan to head the CIA when he took office in 2009. But some human rights advocates protested, claiming that as a top agency official under President George W. Bush, Brennan had supported, or at least had failed to stop, the use of interrogation techniques like water-boarding that are widely considered to be torture.
Brennan denied those accusations but withdrew from consideration, and Obama gave him the advisory position, which did not require Senate confirmation.
It is uncertain whether the torture issue will now cause any problems for Brennan. But he is a far more well-known figure than in 2009, having made many public appearances in the wake of terrorist plots and to explain the legal and policy arguments behind drone strikes.
Since 9/11 has been on the front lines in the fight against Al Qaeda, and over the past four years, he has been involved in virtually all major national security issues. He is known to have the full trust and confidence of the president, having been by his side for some of his toughest decisions.
During Brennan's tenure as Obama's top adviser on counter-terrorism, Al Qaeda's leadership has been devastated and Osama bin Laden has been killed. He has also led the effort to take the fight to Al Qaeda affiliates in places like Somalia. He helped navigate the challenges of the Arab Spring, including the transition in Yemen, and bolstered homeland security. He has also helped guide the White House's response to a variety of challenges, from tornadoes to cyberthreats to Hurricane Sandy.
At the CIA, Brennan served in the field and at headquarters, including service as deputy executive director and as station chief in Saudi Arabia. He has spoken out repeatedly about the need for strong oversight and review of counter-terrorism actions.
Brennan has bipartisan credentials, having held senior positions in Democratic and Republican administrations. He has worked closely with members of Congress, as well as Republican governors like Chris Christie of New Jersey through disaster relief efforts. He has no party affiliation.
© 2013, The New York Times News Service