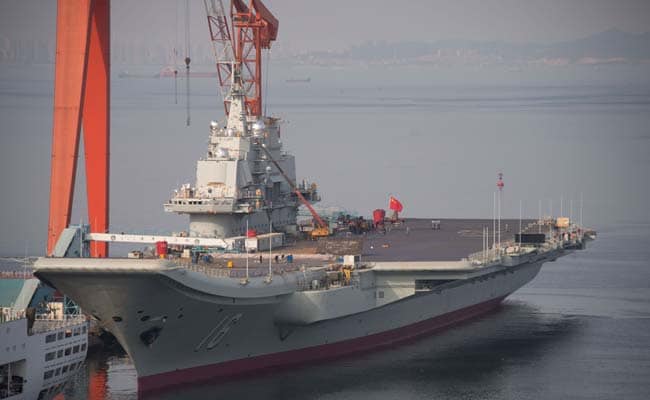 Beijing:
A Chinese man who sold 500 pictures of the country's first aircraft carrier has been detained in a spying investigation, local media reported, the latest web user allegedly exploited by foreign intelligence agencies.

The man, surnamed Zhang, began taking pictures of the Liaoning -- a Soviet-era vessel bought from Ukraine -- after he was contacted online by an individual claiming to be a "magazine editor", Dalian Television reported.

Zhang was one of two men detained last year by police in Dalian, the northeastern port where the Liaoning was refitted before going into service in 2012 and has since undergone regular maintenance.
Zhang took pictures of the vessel from April until August when authorities discovered he had 500 pictures of the Liaoning, which had been supplied to his contact.


"Zhang caused a grave threat to the country's military security," the report late Monday said.
The other man, surnamed Han, received 90,000 yuan ($14,400) for taking pictures of Chinese military equipment from a "reporter" who contacted him online after he posted his CV seeking employment, according to the report.
"This 'reporter' is actually a foreign spy who was being monitored for some time by intelligence agencies," it said, without giving details of the alleged spy's allegiance.
Communist China takes an extremely strict approach to its national security and state media have previously reported on web users in the country being "lured" by foreign spies when looking for jobs and friends online.
A Chinese man was arrested last November in the coastal city of Qingdao for selling pictures of military equipment to a foreign spy, state broadcaster China Central Television said on its website.
In May, a Chinese snack bar owner from the southern province of Guangdong was jailed for 10 years for disclosing military secrets, including documents and photographs of material, to "foreign intelligence agencies", state media said.
Beijing announced a double-digit rise in its defence budget last week and has rapidly expanded its military in recent years, rattling its neighbours and attracting the attention of the US, which is making a foreign policy "pivot" towards Asia.
President Xi Jinping has made security concerns a top issue, and last November state media reported that China adopted a new counter-espionage law aimed at a "more comprehensive state security".
"Xi stressed that the challenges China faces in maintaining national security today are more diverse than they have ever been, as it has seen complicated internal and external situations," the report said.
China in 2013 set up a national security commission, which observers said would have parallels with the US National Security Council.