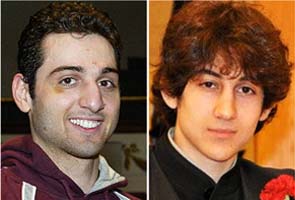 Boston:
Dzhokhar Tsarnaev, the younger of the two Chechen brothers suspected of the Boston marathon blasts, probably killed his elder brother Tamerlan by running his SUV over him while fleeing, police said.
Dzhokhar, 19, who was arrested on Friday after days of an extensive manhunt, is in serious condition in a Boston hospital. His elder brother, Tamerlan, 26, the alleged mastermind of the Boston marathon bombing died a day earlier during a police exchange fire.
In an interview to the Boston Globe, Watertown Police Chief Ed Deveau claimed that Dzhokhar ran over his brother on his stolen SUV when the police was about to handcuff and arrest him on Thursday night after exchange of fire. His autopsy report has not come in yet.
Describing the chain of events, Deveau said after days of manhunt, local police spotted the two brothers driving in two cars - Honda sedan and a stolen Mercedes SUV. Soon the two brothers jumped out of their vehicles and started firing on the police, while more police were rushed to the scene.
"Quickly we had six Watertown police officers and two bad guys in a gunfight," said Deveau. At least 200 shots were fired, maybe as many as 300, he told the Boston Globe.
The shots, around 12:50 AM, woke resident Jennings Aske, at 66 Laurel Ave. When he looked out his window he saw a green Honda Civic sedan stopped in the street, with its lights on and the driver's side windows blown out. A husky man - apparently Tamerlan Tsarnaev -- stood nearby firing a gun, the daily reported.
I saw him standing there shooting at police. When he fired, there was a little flash of light. I could hear the gun firing. It was terrifying," he told the daily.
According to Deveau, the Tsarnaev brothers hurled something at the officers - apparently a pressure cooker bomb -- and there was a tremendous explosion. Police later found the lid to a pressure cooker.
"We believe it was an exact duplicate of the Boston Marathon bombs," he said adding that the two suspects also threw five "crude grenades" at officers, three of which exploded.
After several minutes of exchange of fire, Deveau said Tamerlan apparently ran out of bullets. Police officers tackled him and were trying to get him handcuffed. It is at this point of time Dzhokhar came driving in the stolen Mercedes SUV, as a result of which the officers scattered and the SUV plowed over Tamerlan Tsarnaev, who was dragged briefly under the car.
Dzhokhar abandoned the SUV almost immediately on a nearby street and fled on foot, triggering an all-day manhunt, Deveau said.