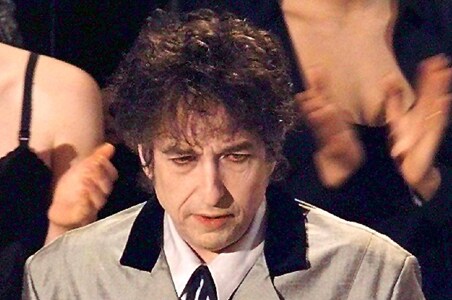 New York:
Since Bob Dylan has been calling himself Jack Frost when he produces his own work, and he has made it his business to investigate every nook and cranny of American song, perhaps there should have been inklings that he would make a Christmas album someday. "Christmas in the Heart" is that album, with its royalties benefiting anti-hunger charities, including Feeding America.
Like Dylan's other 21st-century projects, the album is ragged, cagey, wry and inscrutable. It's an amusingly perverse head scratcher that leaves a listener to guess how much is put-on, how much is respect for songwriters' craftsmanship, how much is reverence and how much is just odd. It won't garner him any new fans, who must wonder why anyone puts up with such a wheezy, ravaged voice. But it gives existing ones - like me - a season's worth of clues and subtexts.
Those start with the album's images: a Russian-looking sled dashing through the snow, three silhouetted kings, drooping horn players in Santa suits and a buxom, smiling Bettie Page holding a Santa Claus doll and flaunting red lingerie. It's Christmas as winter festival, pilgrimage, entertainment job and sensual indulgence.
In the music, Dylan's dilapidated voice is front and center. It scrapes and cracks, and it often crumbles at high notes (no Auto-Tune here). Meanwhile, the arrangements come out of the same time warp as his "Theme Time Radio Hour" satellite broadcasts. The Jack Frost production takes a detour around rock. Most of the time, it merges Dylan's guitar-centered road band - often leaning toward an easygoing western swing - with the kind of white-bread harmony vocalists who might have sung 1940s radio commercials, and their bland purity contrasts even more with his vocal quirks and flaws.
Most of the 15 songs are war horses. Dylan sounds firmly, hoarsely devout in the chiming "Hark the Herald Angels Sing," but there's an interlude of cooing female harmonies and kitschy celeste. "Do You Hear What I Hear?," mentioning wealth versus poverty and urging "pray for peace," rises to a righteous peak. Dylan is nonchalant in "Winter Wonderland," but he's slow, dazed and melancholy in "Have Yourself a Merry Little Christmas" and "I'll Be Home for Christmas" - a codger offering reassurances that he himself doubts.
There are also a few novelty songs. Dylan may well have found Sammy Cahn's "Christmas Blues" - "There's not a store I missed/But what's the use of stopping when there's no one on your list" - on a Dean Martin album. "Christmas Island" is a showcase for Donnie Herron's Hawaiian-style steel guitar. "Must Be Santa" was recorded by that 1950s foe of rock 'n' roll, Mitch Miller, and Dylan turns it into the album's unabashed lark: a polka - with David Hidalgo from Los Lobos on accordion - that intersperses reindeer with presidents: "Dasher, Prancer, Dancer, Vixen/Eisenhower, Kennedy, Johnson, Nixon."
What's Dylan up to? As on the rest of the album, it could be doggerel, pop fillip, social comment, Dada non sequitur or all of them at once.