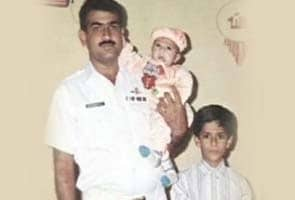 Malaysian-owned cargo ship MV Albedo along with its 23 member crew was seized 17 months ago by Somali pirates in the Gulf of Aden. With the final April 20 deadline set by the pirates fast approaching, last ditch efforts are underway in Pakistan to ensure the safe return of all the sailors.
One Indian crew member on the MV Albedo died of cholera and the crew now comprises seven Pakistanis, seven Bangladeshis, six Sri Lankans, one Indian and an Iranian.
A Dubai resident, Shahnaz Jawaid, wife of MV Albedo's captain, Jawaid Khan, says, "The crew from Bangladesh and Sri Lanka too are in touch with us. They are pleading for help in their countries as well."
Even as the families of the 22 sailors pray that their ordeal ends soon, for the sailors held hostage 60 nautical miles off the Somali coast, food and water is getting scarcer.
Mishal Jawaid, who last saw her father, Captain Jawaid Khan, in Jebel Ali in November 2010 before he set sail for Kenya says, "I feel guilty every time I eat or sleep. I think about how deprived he must be of these essentials."
Acting on behest of the Sindh Governor, it has been agreed after negotiations between the pirates and Citizen's Police Liaison Committee (CPLC) in Karachi that by the April 20, $2.85mn will be paid to the pirates - not as ransom but to cover expenses incurred on those held captive.
But Neelum Mujtaba, wife of 1st Officer Mujtaba voices her concern. "This is, after all, a matter of 22 lives. But where will the money come from? We are very tense."
Appeals to raise funds are being made from residents and the business community to end the nightmare of the families.
Ahmed Chinoy, the chief negotiator and chairman of the CPLC says, "All we want is the safe return of all sailors held hostage. That is why our Governor has time and again refused the pirates' proposal to release gratis only the Pakistani sailors held captive. The Governor reasons that the other nationals are as much our people as the Pakistanis. We want all of them back."
Pakistan has taken the lead in ensuring the safe return of all sailors detained reaffirming Human Rights activist Ansar Burney's 2011 release of 22 crew members aboard the Egyptian merchant ship MV Suez from Somali pirates.