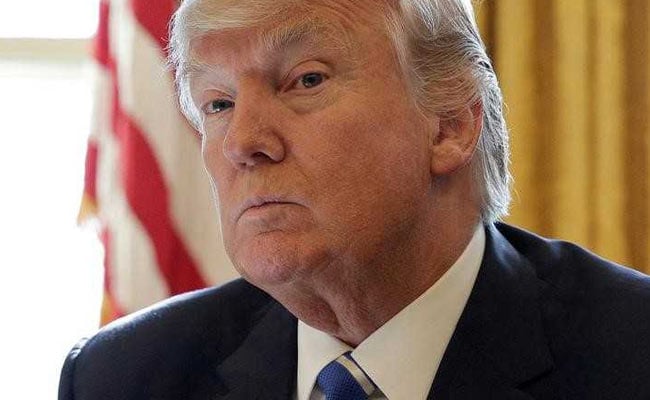 Nairobi, Kenya:
Africans reacted angrily Friday after US President Donald Trump reportedly referred to their nations as "shithole countries", with many lashing the US president for racism and ignorance.
The 55-nation African Union condemned the remarks while the southern African state of Botswana hauled in the US ambassador to complain.
The comment "truly flies in the face of accepted behaviour and practice," said Ebba Kalondo, spokeswoman for AU chief Moussa Faki.
"This is even more hurtful given the historical reality of just how many Africans arrived in the United States as slaves, and also terribly surprising as the United States remains a massively positive example as just how migration can give birth to a nation," Ms Kalondo said.
The comments were "clearly" racist, Ms Kalondo said, but stressed the US was "much stronger than the sum total of one man".
Mr Trump made the remarks on Thursday in a meeting with lawmakers on immigration reform, The Washington Post and The New York Times reported. On Friday, Mr Trump tweeted an implicit denial, saying "this was not the language used".
The United Nations slammed Mr Trump's reported remarks as "shocking and shameful" and "racist".
"You cannot dismiss entire countries and continents as 'shitholes' whose entire populations, who are not white, are therefore not welcome," Rupert Colville, spokesman for the UN human rights office, told reporters in Geneva.
Botswana summoned the US ambassador to the country to "clarify if Botswana is regarded as a 'shithole' country", according to a foreign ministry statement which called Mr Trump's comments "irresponsible, reprehensible and racist".
'Nothing new'
This is not the first time Mr Trump has rubbed Africans up the wrong way -- he was widely derided last year after he twice referred to Namibia as "Nambia".
On social media, users across the continent on Friday posted images of modern skylines and beautiful nature from their countries with the ironic hashtag "shithole".
Many Africans reminded the US of its historic role in the continent's woes.
"President Trump, One day, I'll take you to a 'shithole' country called Ghana," wrote Ghanaian Edmond Prime Sarpong on Facebook.
"First stop would be Osu Castle, Elmina Castle, and the over 40 Forts that detained about 30 million slaves, beaten and shipped out like sardine cans and then I will tell you the history of Africa and why people like you made that a 'shithole' continent."
Prominent Kenyan commentator Patrick Gathara, told AFP that Mr Trump's words were nothing new from a "racist and ignorant" administration, nor from the West at large.
"This is no different from what Hollywood and Western media have been saying about Africa for decades. We have consistently been portrayed as shitty people from shitty countries."
'Extremely offensive'
"This statement shocks us a lot... as Africans but as black people too", said Senegalese teacher Mohamed Dieye, adding that "we do not need Americans or Europeans, we will go it alone".
Some acknowledged problems in their countries, but blamed this on their poor leaders as well as western nations such as the US.
"Please don't confuse the #shithole leaders we Africans elect with our beautiful continent... Our motherland is the most blessed continent that has been raped by imperialists in collaboration with our shitty misleaders for generations," wrote Kenyan activist Boniface Mwangi on Twitter.
In South Africa, the ruling party declared "ours is not a shithole country" and described Mr Trump as "extremely offensive".
"It is not as if the United States doesn't have difficulties. There are millions of unemployed people in the US, millions of people who don't have health care services or access to education and we would not deign to make comments as derogatory as that," said Jessie Duarte, the deputy secretary general of the African National Congress (ANC).
'It's our shithole'
Some Nigerians however did not hold back, with many on Twitter saying their country was a "shithole", but that it was "our shithole" to criticise.
In Senegal's capital Dakar, administrator Idrissa Fall said "we cannot really say that he (Trump) is wrong".
"African countries, and sometimes our leaders, do not exactly deal with the problems of the worst-off, that's what makes people immigrate".
Even war-torn South Sudan weighed in, with President Salva Kiir's spokesman Ateny Wek Ateny slamming the comments as "outrageous".
However Juba businesswoman Jenny Jore, 31, told AFP that Mr Trump's remarks were "on point".
"It is thanks to our African leaders that we are insulted that way," she said.
Mr Trump's latest comments also provided ample fodder for talkshow hosts.
South African comedian Trevor Noah, star of "The Daily Show", described himself as an offended citizen of "South Shithole" and also criticised Mr Trump's preferred choice of Norway for immigrants.
"He didn't just name a white country, he named the whitest -- so white they wear moon-screen," he said.