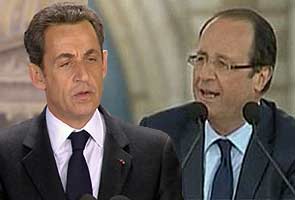 Paris:
Today is the second and final round of the French presidential elections. Incumbent Nicolas Sarkozy's Socialist challenger Francois Hollande beat him in the first round of elections and is the front runner in all opinion polls that have predicted he will win tonight.
In the first round of votes on 22 April, Francois Hollande came out on top making Nicolas Sarkozy the first ever President to lose the number 1 position in the first round of votes. Far right Marine Le Pen scored a surprising close to 18 per cent score which means that nearly 1 out of 5 French voters cast their ballots for her, an anti-immigrant, anti-euro candidate. She is out of the race in this round but which way her voters will go could make a big difference. She told her voters she herself will cast a blank vote and that they should decide for themselves who they want to vote for.
Mr Sarkozy's campaign speeches, especially in the last two weeks have been more and more about closing borders and reducing immigration by half. Frequent references were also made to the burqa ban. Mr Sarkozy has been aggressively trying to lure the far right voters. Getting about 65 per cent of their votes could win him this election. Mr Hollande however has been the frontrunner throughout this campaign. The latest opinion polls say 52 per cent of votes will go to socialist Hollande and 48 per cent to Sarkozy (Source: I FOP); a difference of 4 points that Mr Sarkozy will be hoping to bridge.
Mr Sarkozy himself has rubbished all opinion polls. During his term he was seen as someone particularly fond of opinion polls but now he says they're all wrong and that he stands a strong chance to win. Mr Hollande on the other hand has been more cautious saying to his voters the race is not won yet.
A lot would also depend on which way the voters of the far right, the far left and centrists will be voting. Opinion polls in France have been right about who will emerge as winner since 1981. Their predictions have been fairly accurate about the final round except in 2002 when Jacques Chirac made a huge score. This was the year when Marine Le Pen's father, Jean Marie Le Pen of the far right, had made it to the second round of votes.
There is a blackout in the French media today up to 8pm local time (11:30pm IST). No opinion polls or election analysis will be done before all the polling booths close. Anyone publishing results could be fined 75,000 Euros but that hasn't prevented people on keeping an eye on the Belgian and Swiss media who come out with exit polls two hours earlier than in France. Twitter in the meantime had started a hashtag #RadioLondres for the first round. This time it seems the code words are "Camembert" for the incumbent after a cheese brand called President and "Flanby" for Hollande, a caramel pudding.
There had been talk of the markets panicking if Hollande wins. The socialist candidate has promised his voters he will curb the excesses of the financial markets to make them serve the people. However of late there has been an increasing acceptance that Hollande's arrival may not be as much of a disaster as predicted. Tonight's winner will be heading to huge celebrations in Paris after the results are announced in France. Hollande's voters will head to Bastille and Sarkozy's to the Concorde square.
Sarkozy has said he will retire from politics if he loses tonight. Hollande has said he will run for legislative elections.