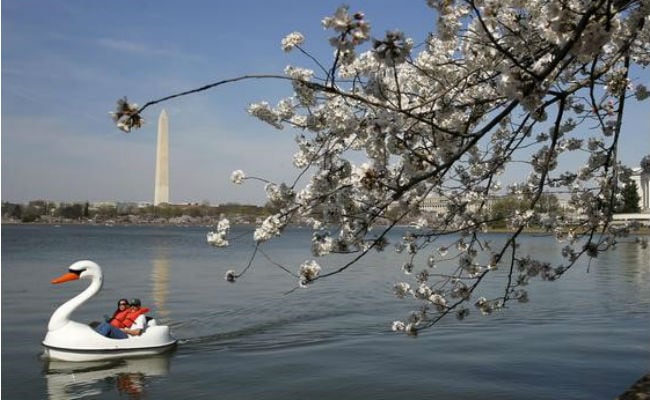 Washington:
A cold snap destroyed half of Washington's premier variety of cherry blossoms this week, muting the pink-and-white display that normally draws about 1.5 million tourists to the US capital, National Park Service officials said on Friday.
The damage resulted from a late-season winter storm on the heels of record-high temperatures that had spurred many Yoshino cherry trees nearly to full bloom, said Gay Vietzke, the superintendent of the National Mall and Memorial Parks.
"We do anticipate that there will be fewer blossoms than normal, and the color therefore may not be quite as dense as we've seen in past years," she said at a news conference.
The surviving half of blossoms on the Yoshinos may reach peak bloom around March 25 and 26, later than initially forecast, National Park Service spokesman Mike Litterst said at the news conference. Yoshinos make up 70 per cent of the 3,700 cherry trees around the city's Tidal Basin and nearby parks.
The cherry trees surrounding the basin on Friday were mostly dull brown and green, a sharp contrast to the cloud of pastel blossoms that have drawn crowds since Japan gave the trees to Washington in 1912 to honor the friendship between the two countries.
Tourists strolling under the trees and skirting patches of snow and mud expressed disappointment that they would miss one of Washington's biggest outdoor shows.
Grant Gillingham, a 56-year-old retired railroad supervisor from England, said the cherry blossoms had been one of the main reasons he decided to visit Washington.
"It's the weather, what can you do?" he said. "If we could control the weather, we'd be a very powerful species."
Diana Mayhew, president of the four-week National Cherry Blossom Festival, told reporters events would go on as scheduled, starting with the opening of a welcome area and stage on Saturday.
There were no signs that tourism had been affected by the topsy-turvy weather, Mayhew added.
© Thomson Reuters 2017