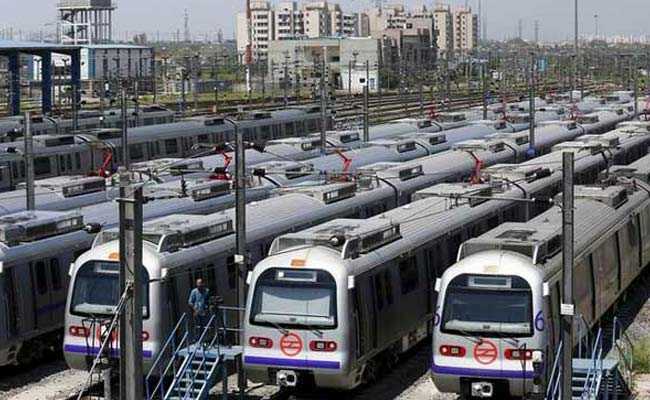 The DMRC or Delhi Metro Rail Corporation will soon provide connectivity between Kalkaji Mandir and Janakpuri West stations. That was said by DMRC, entrusted with the task of construction and operation of rapid transport system Delhi Metro, in a statement on Tuesday. That would extend the connectivity under Delhi Metro's Magenta Line by an additional 25.6 kilimetre stretch between Janakpuri West (in West Delhi) and Kalkaji Mandir (South Delhi). The Kalkaji Mandir-Janakpuri West stretch on the Magenta Line has been approved by the Metro Safety Commissioner, according to the DMRC statement. Meanwhile, the Cabinet has approved extension of Delhi Metro from Noida City Centre to Sector-62, Noida.
Here are 10 things to know about DMRC's Magenta Line project from Janakpuri West station to Kalkaji Mandir station:
The Magenta Line would reduce the travel time between West Delhi and South Delhi, Gurugram (Gurgaon), Faridabad and Noida considerably.

For instance, travelling between Hauz Khas and Janakpuri West at present requires a passenger to switch between lines from Rajiv Chowk, which takes nearly 55 minutes. Once the Janakpuri West-Kalkaji Mandir stretch of the Magenta Line opens for the public, this time is expected to be reduced to less than 30 minutes.

"The commissioner for metro rail safety has given the mandatory approval for the start of passenger operations for Janakpuri West-Kalkaji Mandir, subject to the fulfilment of certain conditions and stipulations," news agency cited a DMRC official as saying on Wednesday.

DMRC further said the exact date of opening of the Janakpuri West-Kalkaji Mandir corridor will be intimated after compliance.

The extended section has 16 stations with two interchanging ones at Hauz Khas and Janakpuri West. That means passengers traveling by the Magenta Line service will be able to board trains of other lines from these two stations.

The Hauz Khas and Janakpuri Delhi Metro stations provide connectivity with Yellow Line and Blue Line services respectively.

Currently, Delhi Metro's Magenta Line service connects Botanical Garden, Noida with Kalkaji, Delhi. This stretch was made operational on December 25 last year.

The existing Magenta Line provides passengers interchangeability between lines at Kalkaji Mandir (Violet Line) and Botanical Garden stations (Blue Line).

Meanwhile, the Cabinet has approved extension of metro rail network from Noida City Centre to Sector-62, Noida. The new line will be extension of the Dwarka-Noida City Centre line of Delhi Metro and is proposed to have six stations.

Delhi Metro currently offers connectivity among 185 stations under eight colour-coded lines including Red Line, Yellow Line, Blue Line, Violet Line, Pink line and Magenta Line.