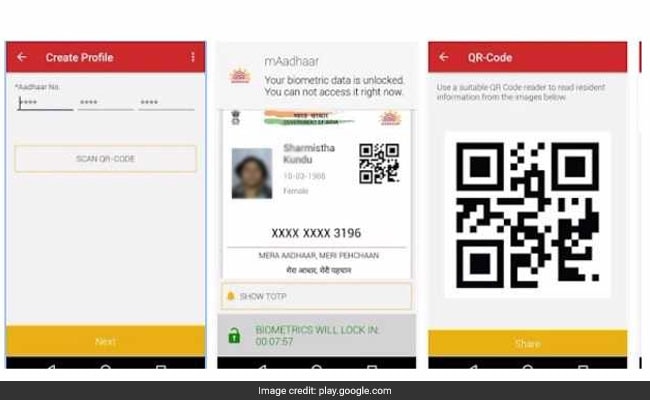 Mobile app mAadhaar does not have social media accounts other than that of the UIDAI or Unique Identification Authority of India. This was said by the
UIDAI, the issuer of the 12-digit Aadhaar number
and the Aadhaar card, as well as the provider of mobile app mAadhaar, on microblogging site Twitter. The UIDAI said it does not have "any separate social media profiles for mAadhaar. Any namesake Twitter handle/Facebook page etc. is fake..." The UIDAI, which currently offers mobile app mAadhaar for Android-based smartphones, said it "does not take responsibility" of any information posted by such fake social media profiles.
We do not have any separate Social Media profiles for #mAadhaar.
Any namesake Twitter handle/ Facebook Page etc. is fake and UIDAI does not take responsibility of the information posted by them. pic.twitter.com/mXA6PS5W2g

— Aadhaar (@UIDAI) April 3, 2018
mAadhaar can be used to carry an
Aadhaar card in digital form
on a smartphone, according to the UIDAI. Mobile app mAadhaar enables a user to open the app and enter his or her password to produce the digital Aadhaar card. Digital Aadhaar card, using mobile app mAadhaar, was last year announced as an acceptable
proof of identity
for undertaking a journey by train or by air.
How to create mAadhaar
Once on the mobile app, a user can create an mAadhaar profile through the following steps, as prescribed on the UIDAI's website - uidai.gov.in:
Enter the 12-digit Aadhaar number - also known as Unique Identity Number (UID) - or scan the Aadhaar card
Ensure an active mobile connection: This mobile number should be the one registered with the UIDAI.
After providing the mandatory inputs, press the 'Verify' button (at the bottom of the screen)
After pressing the button, do not navigate away from the screen
Provided that the details provided by the user are correct, mobile app mAadhaar will automatically read the OTP or One-Time Passcode received on the mobile number. (Read more)
Here are five other things to know about mAadhaar:
1. A user can add up to
three profiles on one device
, provided all these Aadhaar holders have the same mobile number registered with the Aadhaar database. This is because of the auto-fill OTP feature, which reads the OTP received on the mobile phone to verify the Aadhaar holder.
2. mAadhaar requires the mobile number registered with Aadhaar.
3. Registered mobile number is the mobile number linked with your Aadhaar number, according to the UIDAI.
4. Individuals who do not have the mobile number registered with Aadhaar, or those looking to update their registered mobile number, are required to visit the nearest Aadhaar Enrolment/Update Centre, also known as 'Aadhaar Kendra'.
5. How to share e-KYC using mAadhaar: Once on the app, a user can open his or her profile. After this step, the user is required to click on the top RHS corner on the app to access the 'Share eKYC' option. A pop-up window prompts the user to reenter the password. This e-KYC can be shared via Gmail and Bluetooth and Skype, among others, according to the UIDAI.