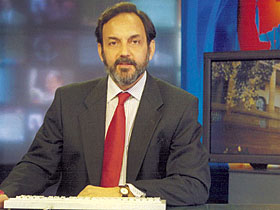 NDTV is 25 years old this year which makes us India's oldest private television production and broadcasting organisation. We would not have reached this landmark were it not for your support. And we are deeply grateful for your partnership in this exciting journey in India's history of free media.
From the days of 'The World This Week' during the tumultuous global decade of the 80s, to the current run up to the big 2014 General Elections - NDTV has been honest with you, a part of your everyday life. Your support has ensured that we have stayed away from tabloid journalism. We have never, and will never 'shout and scream' to get our voice heard. We once again make a promise to you and to our nation to commit ourselves to genuine, truthful and serious journalism - journalism that we know you wish for and are proud of. We thank you for enabling us to continue on this increasingly lonely but important path of reporting the truth, as it is. Unadulterated.
In this landmark 25th year we are planning a number of special programmes and events. Each one of these will be a classic with which we hope you will be proud to be associated.
Thank you once again for being part of our lives during NDTV's first 25 years. And for allowing us to be part of yours.
Truthfully yours,
Prannoy