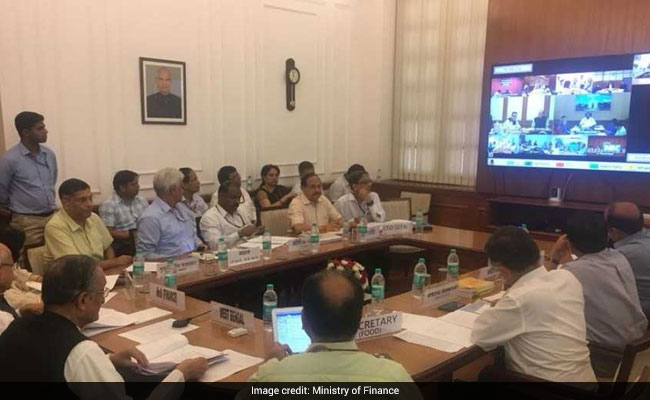 Highlights
GST Network will become a 100% government entity, the Council decided
Currently five private enterprises hold 51% stake in the GST network
As of now, the central government holds 24.5% equity in the GST Network
The 27th GST (Goods and Services Tax) Council on Friday proposed a concession of 2% in GST rate (where the GST rate is 3% or more, 1% each from applicable Central GST and State GST rates) on B2C supplies, for which payment is made through cheque or digital mode. However, this is subject to a ceiling of Rs 100 each transaction, so as to incentivise promotion of digital payment. The GST council has recommended for setting up of a Group of Ministers from State Governments to look into the proposal and make recommendations, before the next Council meeting, keeping in mind the views expressed in GST Council.
PRESS NOTE IN RESPECT OF CHANGES IN GST RATE.#GST for Digital India. pic.twitter.com/caCR0C9eTh

— CBIC (@cbic_india) May 4, 2018
The GST Council also recommended the issue of imposition of cess on sugar over and above 5% GST and also the reduction in GST rate on ethanol. Keeping in view the record production of sugar in the current sugar season, and consequent depressed sugar prices and build-up of sugarcane arrears, the Council discussed the issue of imposition of sugar cess.
The GST Council meet on Friday was held via video conferencing. Mr Jaitley further said that the central government will own 50% in the GST Network, while the states will collectively hold the remaining half stake. Currently five private financial institutions HDFC, HDFC Bank, ICICI Bank, NSE Strategic investment and LIC housing finance together hold 51% stake in the GST Network.
The last GST meet (26th GST Council meet) was held on March 10.
Also Read: GST Council Cuts Rates On Used Cars, Diamonds. Full List Here
As of now, the Government of India holds 24.5% equity in the GSTN and all States of the Indian Union, including NCT of Delhi and Puducherry, and the Empowered Committee of State Finance Ministers (EC), together hold another 24.5%.
Also Read: In A First, GST Collection For A Month Exceeds Rs 1 Lakh Crore

The balance 51% equity is with non-Government financial institutions. The company has been set up primarily to provide IT infrastructure and services to the Central and State Governments, tax payers and other stakeholders for implementation of the Goods and Services Tax (GST). The Authorised Capital of the company is Rupees ten crore only.
The
GST collection
in April crossed the Rs 1 lakh crore mark for the first time, indicating stabilisation of the new indirect tax regime that was rolled out on July 1 last year.