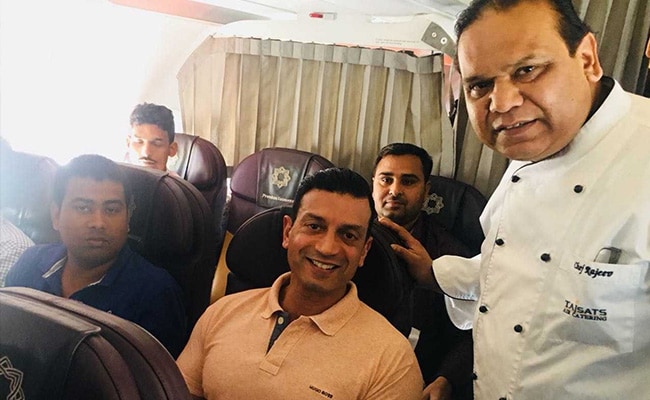 Domestic flight carrier Vistara has launched a chef on-board programme in partnership with Vistara's caterers, Taj SATS Air Catering Limited. Chef on-board is an innovative and first-of-its-kind initiative in the country where uniformed chefs will take direct and instant customer feedback on the new menu introduced across the network,
said Vistara
. To launch the new service, Taj SATS group chef culinary development Rajeev Bansal was on board Vistara's flights UK970 BOM-DEL and UK 977 DEL-BOM to interact with the customers in business and premium economy class. The chef sought passengers' opinion and gauged their reaction to the newly introduced menu,
Visatara said
in a press release.
Going forward, Chef Bansal will be available periodically on select flights across Vistara's network to monitor Vistara's in-flight catering.
Appetizing food makes for a great flight. Presenting #ChefOnBoard, yet another industry first from Vistara, in partnership with Taj SATS. Executive Chef Rajeev Bansal took feedback on our new in-flight menu from passengers aboard UK970 and UK977. A glimpse: pic.twitter.com/iaSKgIqiaM

— Vistara (@airvistara) May 2, 2018
"The new menu features all-time Indian, Asian, and continental favourites, and with chef on-board, we want to ensure that we get feedback directly from our customers to help us make the Vistara dining experience even more fulfilling and memorable," said Sanjiv Kapoor, chief strategy and commercial officer, Vistara.
"With Chef-on-Board, Vistara is giving us an opportunity to directly engage with customers and solicit their response on Vistara's latest menu. We get opinions from third party sources like cabin crew, post-flight customer surveys, and friends or family and while that helps us, direct feedback from the end consumer is incomparable," said Sagar Dighe, chief operating officer, Taj SATS Air Catering Limited.
At a time when domestic civil aviation market has seen a robust growth since a few months, airlines have come up with attractive discount offers and schemes to woo customers and increase their passenger share.
Domestic air passenger traffic rose by 28.03 per cent in March this year as compared to the same period last year, with domestic carriers flying 1.15 crore passengers, according to data by the Directorate General of Civil Aviation.