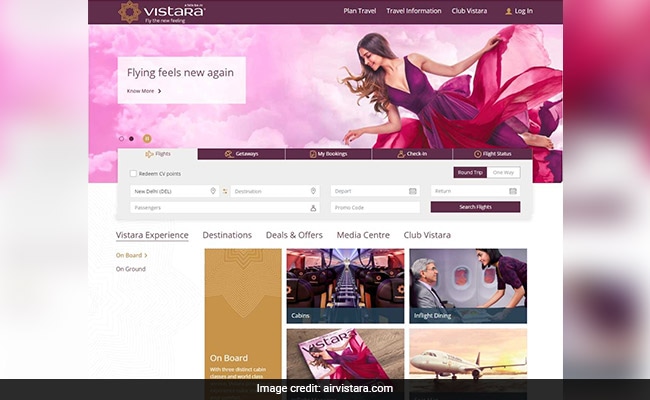 Airline Vistara has launched an all-new website in its bid to transforms online customer experience. The new website - airvistara.com - is "easily accessible on popular web browsers and is designed to provide enhanced features, speed, smart functionality and easy navigation accompanied with a user-friendly interface", Vistara said in a press release on April 24. The new website - airvistara.com - supports booking of flight tickets in "three simple steps", according to Vistara. Club Vistara members can also now view a comprehensive account summary "through a simplified, intuitive dashboard-on-a-page", Vistara added. Club Vistara is a frequent flyer program operated by Vistara, offering special benefits such as increased baggage allowance, priority boarding and lounge access, among others.
"The new Vistara website has been designed from scratch with the sole purpose of making our first point of interaction with our customers as seamless, intuitive, and pleasant as the on-ground and inflight experience, and empowering them with more choices," said Vistara chief strategy and commercial officer Sanjiv Kapoor.
Here are five things to know about Vistara's new website:
1. Vistara's new website runs on popular web browsers including Chrome, Firefox, Safari, and Internet Explorer.
2. The new website transforms the online experience for customers, providing enhanced features, speed, functionality, navigation, and visual appeal, along with an intuitive and clutter-free user interface with all relevant information logically placed and easily viewable, according to Vistara.
3. The new website includes enhanced features such as ability to use promo codes, view tabbed fares by date, fare strike-through display to show applicable discounts visually, and number of seats available at each fare if less than nine.
Just a few hours to go for the big reveal! #StayTunedpic.twitter.com/bV2v3oiQ9T

Vistara (@airvistara) April 23, 2018
4. "The new website is the platform on which we will be introducing an exciting host of new online products, services, and offers in a phased manner over the coming months," Mr Kapoor of Vistara added.
5. Vistara had earlier this month invited select customers to test the beta version of the new website, with an aim to fine-tune the web experience for customers after its release.
Vistara plans to commence international operations from the second half of 2018. Vistara chief executive Leslie Thng had said earlier this year that the airline would have a fleet of 22 aircraft by May 2018.
Currently, Vistara serves 22 destinations with over 730 flights a week, operated by a fleet of 20 Airbus A320 aircraft. Vistara brand flights are operated by TATA SIA Airlines Limited, a joint venture between Tata Sons Limited and Singapore Airlines Limited (SIA).