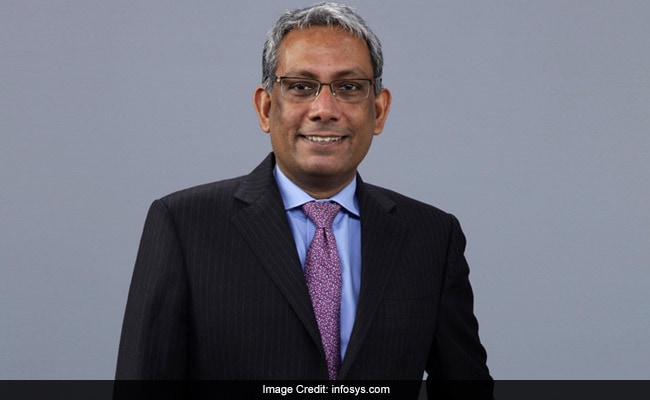 Highlights
Mr. Venkatesan has been an independent Infosys director since 2011
"Ravi has been a champion for driving social impact," said Mr Nilekani
Vishal Sikka left abruptly as Infosys CEO and MD in August 2017
Ravi Venkatesan, Independent Director of Infosys, is stepping down from the Board to accept an exciting new role, IT major Infosys announced on Friday. Mr. Venkatesan has been an independent director since 2011 and served briefly as the co-chairman before successfully transitioning this responsibility when Nandan Nilekani became Chairman in August 2017. Mr. Venkatesan said, "I joined the Board at a time when Infosys was beginning the complex journey of transitioning from founder-led to professional management. This was also a time of tectonic industry shifts. I am pleased that this mission has been accomplished," he said.
"Infosys is strong, in good hands, and is gaining momentum. My seven years on the board have been exciting, rewarding and eventful. l feel fortunate to have been part of this extraordinary company at a seminal moment in its history and to have worked with so many fine colleagues on the Board and in management. I wish Infosys and all Infoscions the greatest success in the coming years," Mr Venkatesan added.
Mr. Nilekani, Chairman of the Board, commented, "I thank Ravi for his pivotal contributions to Infosys in a period of important transitions and towards a digital-first future. This passage is one that every entrepreneurial company faces eventually and I thank Ravi for his leadership in ensuring a successful transition. The Board will miss his passion, strategic insights, and personal warmth, but he will always remain a friend. Ravi has been a champion for driving social impact and it is desire to do more, that led to his request for stepping off the Board. I am delighted that he will be pursuing an exciting opportunity in this area. On behalf of my colleagues on the Board, I wish him all success with his new endeavour."
Kiran Mazumdar-Shaw, Lead, Independent Director, added, "Ravi has been a good friend, an extraordinary colleague, and a valuable board member at a hugely important time for Infosys. We will miss him greatly."
After Mr Venkatesan became a co-chairman briefly,
T V Mohandas Pai, a former Infosys director, had alleged in a Twitter post that he was in power play
and needs to be sidelined. Shaw, however, had backed him as "valuable board member".
Infosys saw some high-profile exits and entries last one year.
Co-founder
Narayana Murthy was unhappy with alleged corporate governance lapses
of the Infosys Board under
Vishal Sikka,
who left abruptly as the company CEO and Managing Director in August, followed by the resignation of senior vice president
Sanjay Rajagopalan
in September.
Mr. Nilekani
was then appointed as a non-executive chairman and non-independent director of Infosys.
Salil Parekh
took charge as Infosys CEO on January 2, 2018.