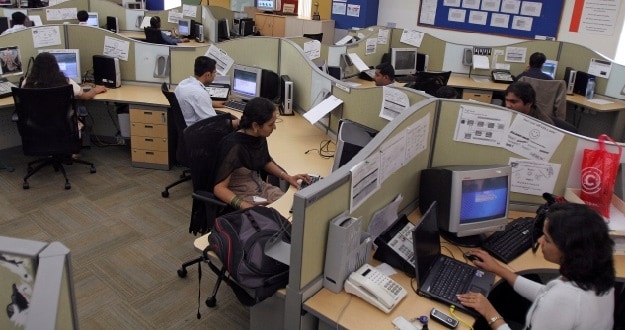 The US is the biggest market for India's over $100-billion outsourcing industry and it also contributes to the creation of lakhs of jobs in the IT sector. Unsurprisingly, the delegation of Indian CEOs meeting US President Barack Obama is packed with IT honchos. Infosys founder NR Narayana Murthy, current CEO Vishal Sikka, M&M chief Anand Mahindra, who is also the chairman of Tech Mahindra, and Cyrus Mistry, who as head of Tata Sons is also the chairman of India's biggest outsourcer TCS, are all representing India Inc at the meeting with President Obama on Monday.

Here's why the IT industry is key to Indo-US trade:

1) The IT industry is estimated to contribute nearly 25 per cent to total domestic exports (merchandise plus services).

2) Indian firms get a lot of business from US, while American companies benefit from lower costs in the country; they also gain access to extensive intellectual capital, which enables them to concentrate on their core competencies.

3) Initially, Indian IT firms provided low-cost technical support and fixed software bugs, but now they optimise financial transactions and develop advance technologies. So, companies are moving up the value chain.

4) Indian firms are increasingly expanding their presence in the US by setting up onshore businesses. Most of the leading Indian IT companies have set up their sales and marketing offices and delivery operations in various US cities.

5) Till 2010-11, Indian IT-BPO sector supported 2.80 lakh jobs in the US, according to Nasscom. Over the last few years, the trend has picked up. Infosys hired 2,000 employees in Wisconsin in 2012; TCS hired 1600 in 2013-14 and plans to add another 2,000 in 2014-15.


6)
The IT industry leads in total merger and acquisitions with US companies. Between October 2012 and December 2014, the IT sector led the M&A pack with 29 out of 71 total outbound acquisitions in the US, according to a study by EY on behalf of industry body Ficci.
7)
US is likely to continue to be the favourite destination for Indian IT-BPO players because of large scale reforms in the healthcare segment (being undertaken by the US government) and Big Data and automation wave is luring tech companies.
8)
According to a study by Egon Zehnder, in 2011 S&P 500 companies had more Indian CEOs than of any other nationality except American. Shantanu Narayen (CEO, Adobe Systems) and Satya Nadella (CEO, Microsoft) are some of the leaders heading global US tech firms.
9)
People of Indian origin dominate US-based tech-start-ups funded by immigrants. According to an EY-Ficci study, India-born entrepreneurs represented 33 per cent of such companies.
10)
A significant number of workforce in tech companies such as Google and Microsoft are of Indian origin. Sundar Pichai is leading Google's Android, Chrome and Google app divisions; Amit Singhal is heading Google's core ranking team and Krishna Bharat is leading Google's news product team.