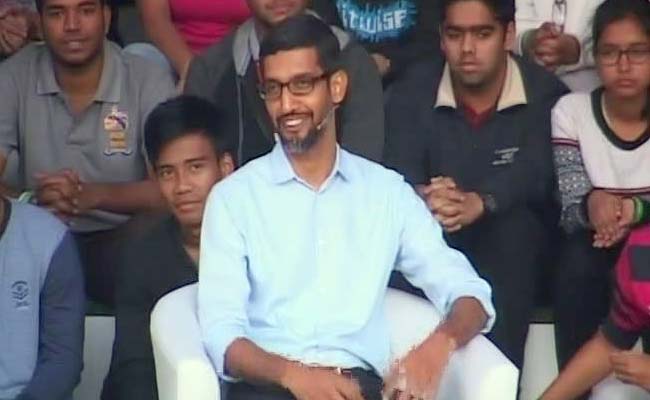 Google CEO Sundar Pichai in a candid chat with students at his alma mater, Indian Institute of Technology (IIT) Kharagpur, shared his interview experience at the internet giant back in 2004.
Asked about his job interview at Google,
Mr Pichai
in a lighter tone said: "I interviewed at Google on April 1st, 2004, which is April Fool's Day. Google had just announced Gmail, and it was invite-only, but people weren't exactly sure whether it was an April Fool's joke."
"So I remember doing my interviews during the day and people kept asking me 'what do you think of Gmail?' But I hadn't had a chance of use it. I thought it was an April Fool's joke. So in my first three interviews I couldn't answer it well because I hadn't used the product," the Google CEO said.
Mr Pichai also exuded confidence that big global software companies will start emerging from India in the next five to 10 years. "In five- to 10-year time frame, we will see big global software companies coming out of India."
Mr Pichai earned his degree in Metallurgical Engineering from IIT Kharagpur.
He joined Google in 2004 as its vice president of product management, where he led the team working on Google's Chrome browser and operating system. He was in August 2015 named chief executive officer of Google Inc.
"It was only in the fourth interview when someone asked me: 'Have you seen Gmail?' I said no. He actually showed it to me. And then the fifth interviewer asked 'what do you think of Gmail?' And I was able to start answering it then."
"And in the final four interviews I actually told them about what I think of Gmail and how to improve Gmail. And that's my interview experience."
The comments from Mr Pichai came a day after the internet search giant announced new initiatives, including a training programme called
Digital Unlocked
, aimed towards small and medium businesses in India.
Mr Pichai said Google is working on products for the country that can be expanded globally.
"India will be a global player in digital economy and it will be competitive with any country in the world. There is a timing issue. We are doing well as a country. We need to stay at it. We need a few more years and we will get to it. I am absolutely confident," the CEO said.
On the next big thing at Google, Mr Pichai said the tech major was "betting big" on advances in artificial intelligence (AI) and machine learning in the coming years. "I can't quite tell exactly what, but we are betting big on advances in AI and machine learning. Advances in machine learning will bring a difference in many fields."
(With agency inputs)