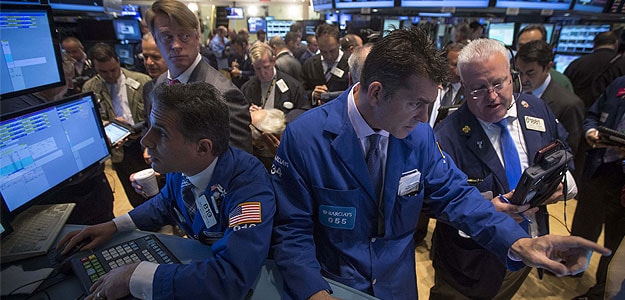 All three major US indices extended losses on Friday, falling more than 1.5 per cent, and were on track for their worst weekly performance in a month as growing oversupply concerns dragged down crude oil prices to their 7-year lows.
The International Energy Agency said it sees the oil glut worsening in 2016 as demand slows and OPEC shows no signs of slowing production.
The steep drop in oil prices adds to investor uncertainty as the Federal Reserve prepares to raise interest rates for the first time since June 2006 at its meeting next week.
The CBOE volatility index, known as Wall Street's "fear gauge", was up 19.5 per cent at 23.10, its highest level since early October.
Adding to the somber mood, China's yuan fell to its lowest in four-and-a-half years on concerns about the country's slowing economy and expectations of a US rate hike.
Global shares were lower amid concerns that weakness in the Chinese currency could weigh on the global economy and on companies with strong export ties to China.
"About 10 per cent of the S&P 500 is energy and commodity related, and it is a barometer for global economy. When you see such a plunge, it worries investors," said Art Hogan, chief market strategist at Wunderlich Securities in New York.
"Until the oil market finds a support level, the market will remain unsettled."
Tracking oil prices, the S&P energy index was down 3.2 per cent, leading the decliners among major S&P sectors. The index has lost more than 10 per cent since the beginning of the month.
At 1723 GMT (10:53 p.m. in India), the Dow Jones industrial average was down 289.43 points, or 1.65 per cent, at 17,285.32, with all its components in the red. The S&P 500 was down 35.74 points, or 1.74 per cent, at 2,016.49 and the Nasdaq Composite was down 99.26 points, or 1.97 per cent, at 4,945.91.
The materials index was down 2.3 per cent, weighed down by DuPont and Dow.
DuPont shares were down 5.4 per cent at $70.51, after the company agreed to merge with Dow Chemical in a deal valuing the combined entity at $130 billion. Dow was down 3.4 per cent at $53.01.
Investors are also awaiting the outcome of the Fed meeting on December 15-16.
Fed fund futures place an 85 per cent chance of a rate hike. A recent Reuters poll also showed that all but one of 18 brokerages that deal directly with the central bank expect a rate increase.
"If the Fed does not move next week, it is basically saying that the recovery is not strong enough, said Randy Frederick, managing director of trading and derivatives for Charles Schwab in Austin, Texas.
"It will definitely be a negative factor for the market."
Jetblue Airways was down 6.7 per cent at $23.75 after the airline operator said it expected flight sales as measured against capacity to fall in the fourth quarter from a year earlier.
Declining issues outnumbered advancing ones on the NYSE by 2,615 to 395. On the Nasdaq, 2,259 issues fell and 462 advanced.
The S&P 500 index showed 1 new 52-week high and 36 new lows, while the Nasdaq recorded 10 new highs and 132 new lows.
© Thomson Reuters 2015