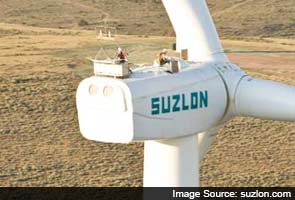 Shares in Suzlon Energy jumped 20 per cent on Monday as Sun Pharma's billionaire promoter Dilip Shanghvi bought a 23 per cent stake in the wind turbine maker. Mr Shanghvi is India's second-richest man.
Mr Sanghvi will pay Rs 1,800 crore through Dilip Sanghvi Family and Associates (DSA) for 1 billion new shares in Suzlon, issued by way of a preferential allotment. Mr Shanghvi & family also announced an open offer to acquire 26 per cent stake in Suzlon at Rs 18 per share. (Read: Dilip Shanghvi to Buy Equity Worth Rs 1,800 Crore in Suzlon)
Analysts say the deal will provide Suzlon with much needed liquidity. TS Harihar of HRBV Client Solutions said, "The entry of Mr Sanghvi will help Suzlon get the required funds... Lot of institutions may support the company now."
Loss-making Suzlon has been under pressure over the last few years due to a slowdown in global turbine sales and a growing debt pile. It was forced to restructure $1.8 billion of debt after defaulting on a $200 million convertible bond redemption in 2012.
The Shanghvi family will remain a financial investor in Suzlon, while Tulsi Tanti (promoter) will retain management control. Mr Tanti's stake in Suzlon, post the deal, will come down to 24 per cent stake from 30.94 per cent earlier.
Suzlon sold its German unit Senvion SE to buyout firm Centerbridge Partners last month for 1 billion euros in an all-cash deal, part of the company's plans to halve rupee debt by March 31.
Shares in Suzlon ended 19.8 per cent higher at Rs 23 and outperformed the broader Sensex, which closed 0.14 per cent up at 29,136.
(With inputs from Reuters)