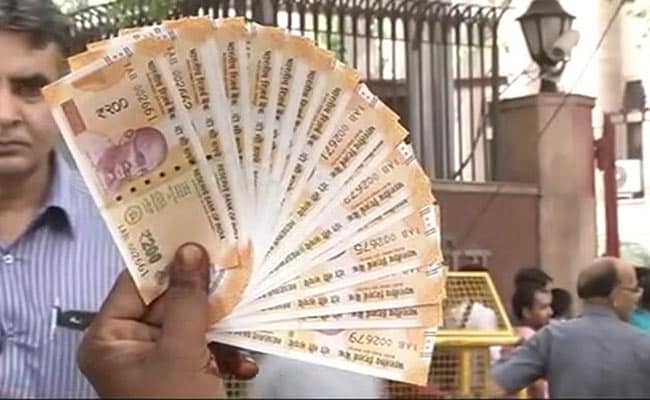 Highlights
Rs 200 notes are now available only through select RBI offices and banks
The new notes will be yellow in colour along with many design changes
Year of printing of the notes will be mentioned at the back
In order to smoothen the process of lower denomination transactions, Reserve Bank of India (RBI) has introduced new Rs 200 notes. The Reserve Bank, earlier, stated that the production of the new notes will be increased as currently the Rs 200 notes are only available through select RBI offices and banks. "The production of these notes (Rs 200) is being ramped up by the currency printing presses and over time as more notes are printed, it will be distributed across the country through the banking channels and will be available for public in adequate quantity," RBI said in a statement.
The new Rs 200 notes have many designs and geometric pattern changes along with the overall colour scheme, both at the obverse and reverse. The new bank notes in the Mahatma Gandhi (New) series will bear the signature of RBI Governor Urjit Patel.
Here Are 10 Things To Know About Rs 200 Notes:1.
The new yellow coloured
Rs 200 notes
will not be available at ATMs just yet. The machines have not been reconfigured to handle the new currency, say officials.
2.
Rs 200 notes were available only at select RBI branches - in cities like Delhi, Mumbai and kolkata - and some other banks.
3.
The dimension of the new Rs 200 notes will be 66 mm x 146 mm.
4.
Portrait of Mahatma Gandhi will be at the centre on the front side of the note.
5.
Colour of the thread changes from green to blue when the note is tilted.
6.
Guarantee clause, Governor's signature with 'Promise Clause' and RBI emblem will be towards right of Mahatma Gandhi portrait.
7.
Rs 200 is done in colour changing ink (green to blue) on the bottom right and Ashoka Pillar emblem will be on the right.
8.
See through register with denominational numeral 200 will also be there.
9.
On the reverse side, year of printing of the notes and 'Swachh Bharat' logo can be seen.
10.
Language panel, motif of 'Sanchi Stupa' and denominational numeral 200 in 'Devnagari' will also feature on the back.
Apart from the Rs 200 notes, the Reserve Bank has also introduced new
Rs 50 notes
which will come into the circulation shortly.
(With Agency Inputs)