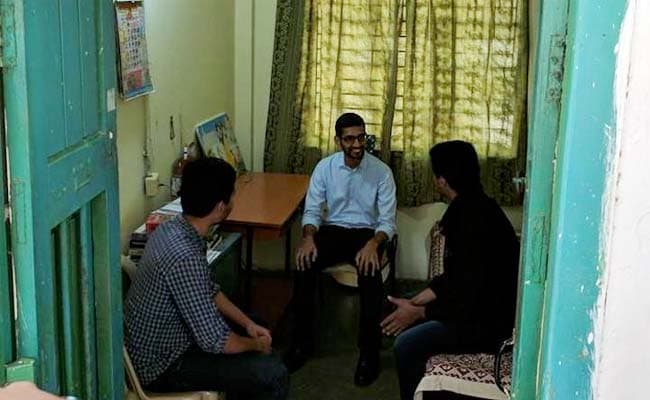 Kharagpur:
It was an emotional reunion for Google CEO Sundar Pichai at IIT Kharagpur campus, as he returned to his alma mater after a long gap of 23 years and spent nostalgic moments in his old hostel room.
This was his first visit to the campus after he completed his B.Tech in 1993.
Taking a trip down memory lane, he went to room number B-308 at the Nehru Hall of Residence which was his room once upon a time.
"He spent sometime alone in the room. We had cleaned and painted the room. He took some photos also," fifth year student Harsheel Pansare, who stays in the next room, said.
The Google boss recalled that during his days, the glass window panes used to break often as the rooms were hit by cricket balls from the ground behind the hostel.
"I walked into the Nehru hall. It looks exactly the same," he said, adding he has some great memories of time spent with his hostelmates.
He still keeps in touch with his college friends and met some IITian mates few days ago in Bengaluru.
Pichai also spent time at the metallurgical and materials engineering department where he had studied long ago.
Professor Sanat Kumar Roy, who had taught him during that time and even recommended him for a foreign university, was there to receive him.
"He enquired about my personal well being. It was more of an emotional meeting. I used to like him when he was a student here. He was academically brilliant," the retired professor who had also taught former Vodafone CEO Arun Sarin, said.
He had not only topped the class, but also won the B C Roy silver medal for excellence in academics.
During an interaction with the students later on, the distinguished alumnus said on a lighter note that he was too embarrassed to admit his first year's GPA but he made up during the last three years.
"When I had left the campus after spending four great years, I felt sad. I haven't been here since then. It is very nostalgic. It is phenomenal to come back after 23 years," Pichai said.
IIT Kharagpur director P P Chakrabarti presented him with the distinguished alumni award which was conferred to him in absentia in the 2015 convocation.
After IIT, Pichai did his M S in Engineering and Materials Science from Stanford University and an MBA from the Wharton School and joined Google in 2004 as its vice president of product management, where he led the team working on Google's Chrome browser and operating system.
(This story has not been edited by NDTV staff and is auto-generated from a syndicated feed.)