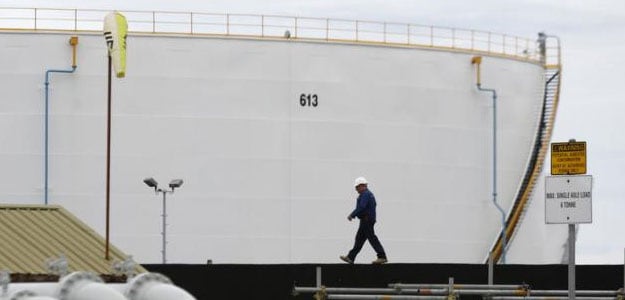 New Delhi
: The United Arab Emirates' national oil company - Abu Dhabi National Oil Company (ADNOC) - has in the first deal of its kind agreed to store crude oil in India's maiden strategic storage and give two-third of the commodity to it for free.
India, which is 79 per cent dependent on imports to meet its crude oil needs, is building underground storage facilities at Visakhapatnam in Andhra Pradesh, and Mangalore and Padur in Karnataka to store about 5.33 million tonnes of crude oil to guard against global price shocks and supply disruptions.
Adnoc is keen on taking half of the 1.5 million tonnes Mangalore facility, Oil Minister Dharmendra Pradhan said on Wednesday.
It will stock 0.75 million tonnes or 6 million barrels of oil in one compartment of Mangalore facility. Of this, 0.5 million tonnes will belong to India and it can use it in emergencies. Adnoc will use the facility as a warehouse for trading its oil.
The 1.33 million tonnes Visakhapatnam storage and 2.5 million tonnes Padur stockpile together with the 1.5 million tonnes Mangalore storage will be enough to meet nation's oil requirement of about 10 days.
After talks with visiting UAE Minister for Energy Suhail Mohammed Al Mazrouei, Mr Pradhan said the tax issue remains to be sorted out before Adnoc can begin storing oil at Mangalore.
Congress-ruled Karnataka government has not yet agreed on waiving VAT (value-added tax) on the crude oil imported for the strategic storage, which UAE wants to use to stock oil when prices are low and supply to its customers when rates are good.
"This will be beginning of our strategic ties," he said, adding that Prime Minister Narendra Modi's visit to UAE in August last year, the first by an Indian Prime Minister in 38 years, laid the foundation of closer cooperation.
The UAE had then committed to invest $75 billion in India, and Mr Pradhan on Wednesday showcased to Mr Mazrouei opportunities for that investment.
"We have offered them refinery projects, petrochemical plans, pipelines and LNG terminals for investment," he said.
On offer was 26 per cent stake for $700 million in ONGC's about-to-be-commissioned petrochemical project at Dahej in Gujarat and 24 per cent equity for $200 million in expansion being planned by BPCL of its subsidiary Bina refinery in Madhya Pradesh from 6 million tons to 7.5 million tonnes.
Also, an investment of $530-850 million can get the UAE 25-40 per cent stake in HPCL's planned petrochemical plant on the Andhra coast, he said, adding that the Gulf national can also invest in the planned 60 million tons in Maharashtra and the Jagdishpur-Haldia and Paradip-Surat gas pipelines.
"UEA makes up for 8 per cent of our oil imports. We are trying to import more oil from UAE. In 2016-17, we plan to import 2.5 million tonnes more oil than current year's purchase of 16.11 million tonnes," he said.
Mr Pradhan said areas of mutual interest were discussed during his meeting with UAE Energy Minister.
Indian firms are not present in upstream oil exploration and production business in the UAE, he said, and mentioned the interest of companies like ONGC Videsh Ltd (OVL) to secure producing or prospective assets there.
Also, they are interested in taking stake in Abu Dhabi Company for Onshore Petroleum Operations Ltd (ADCO), he said, adding that Engineers India Ltd (EIL) was interested in engineering and consultancy contracts in UAE.
"We also offered them partnership in building of second phase of strategic crude oil storages," he said.
India is looking at building four more strategic crude oil facilities at Bikaner in Rajasthan, Rajkot in Gujarat, Padur in Karnataka and Chandikhole in Jajpur district of Odisha.
Besides Adnoc, Kuwait Petroleum Corp (KPC) has also evinced interest in hiring a part of the maiden strategic storage.